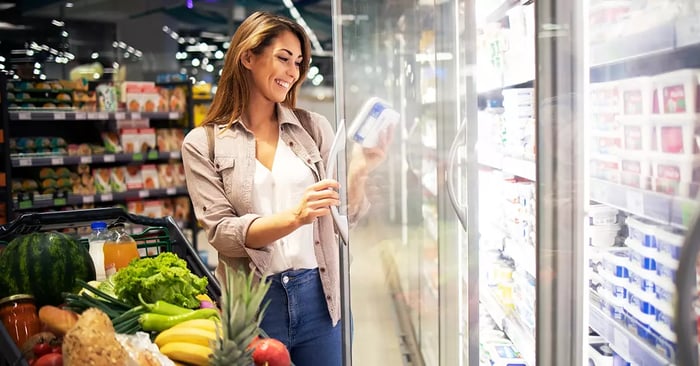 Healthy options are more widely available at major grocery stores than they once were. And it's easy to see why; a Research and Markets Report estimates the global health and wellness foods market will climb to $1 trillion by 2026.
Some health-conscious brands also appear to be outperforming the market. MikMak's "2022 Grocery eCommerce Benchmarks and Insights" established a category benchmark purchase intent rate of 3.6 percent for all grocery brands. MikMak insights found that grocery brands considered "health-conscious" secure an average purchase intent rate of 4.5 percent—hovering 1.3 times higher than the category benchmark.
Wondering how to take advantage of this growing push toward healthier shopping? We dug into the trends driving sales for health-related brands, including vegan and gluten-free meals, produce, organic options, and other things health-conscious shoppers seek out. Here are a few of the marketing insights that surfaced, along with what it means for grocery brands that want to reach health-conscious shoppers.
Marketing insights reveal Youtube has the highest purchase intent rate for health-conscious grocery shoppers.
Social media is a major driver for shoppers of all kinds. In fact, over the course of the last year, more than half of all eCommerce shopping traffic flowed in from social platforms. But some social media outlets are capturing significantly more attention from health-conscious shoppers.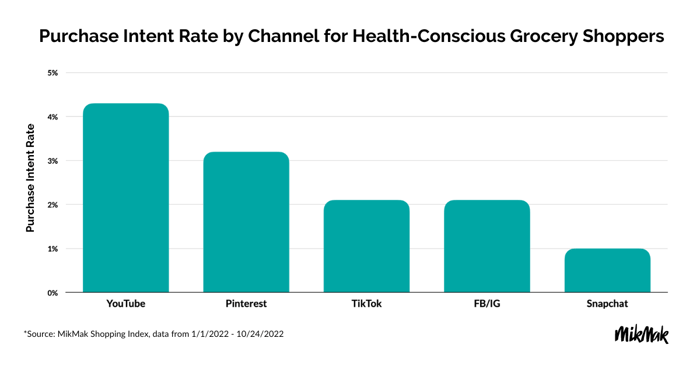 Our internal report found that YouTube secures the highest purchase intent rate (PIR) for consumers who are shopping healthy with a 4.3 percent PIR. This pattern makes sense when you consider how many shoppers head to YouTube for "edutainment"—often searching for health-related info, fitness advice, or similar educational tidbits.
Keep in mind that YouTube is the premier platform for educating your customers through long-form video, and users are willing to devote more attention to content on YouTube than on other social media channels. By positioning your product as the entry point to their shopping journey, your brand can easily be the solution to their problem or become a part of their health improvement experience.
Pinterest was the second-highest driver of purchases, landing a 3.2 percent PIR. That's likely because Pinterest promotes content that naturally fits health-conscious shoppers' interests, covering recipes, party planning, DIY instructions, and other similar topics.
When you're using Pinterest to showcase your brand, expect high purchase rates, but practice patience. Shoppers buy at high rates on this channel, but they may take a little longer to pull the trigger than on other platforms. It's also important to remember that Pinterest relies on a highly visual environment. That means you should present your brand in a visual way that represents your brand and products well.
---
---
Target drives the highest traffic of in-market shoppers to healthy brands.
Major retailers are also directing health-conscious shoppers to healthy brands at different rates. MikMak's study examined the top five retailers for healthy brands within its shopping index. Of those retailers, Target outperformed the pack on purchase intent clicks with a 33.9 percent share—1.5 percentage points higher than the next-best performer, Walmart.
Target also saw the most in-market traffic among the top healthy brand retailers—meaning more shoppers are viewing these products within Target.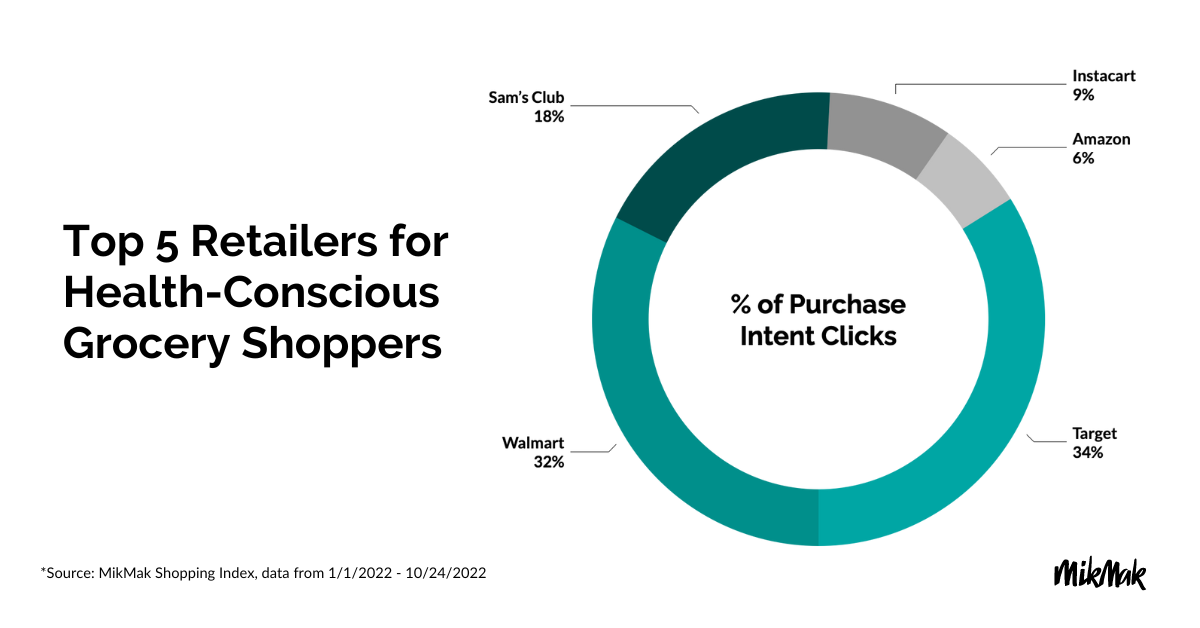 At the same time, when it comes to purchase intent, Sam's Club has far-and-away the highest PIR. This retailer clocked a PIR of 6.9 percent—a figure that's 1.5 times the average for the group. That means even though other retailers attract more clicks from health-conscious shoppers, Sam's Club shoppers are much more likely to buy than with other retailers.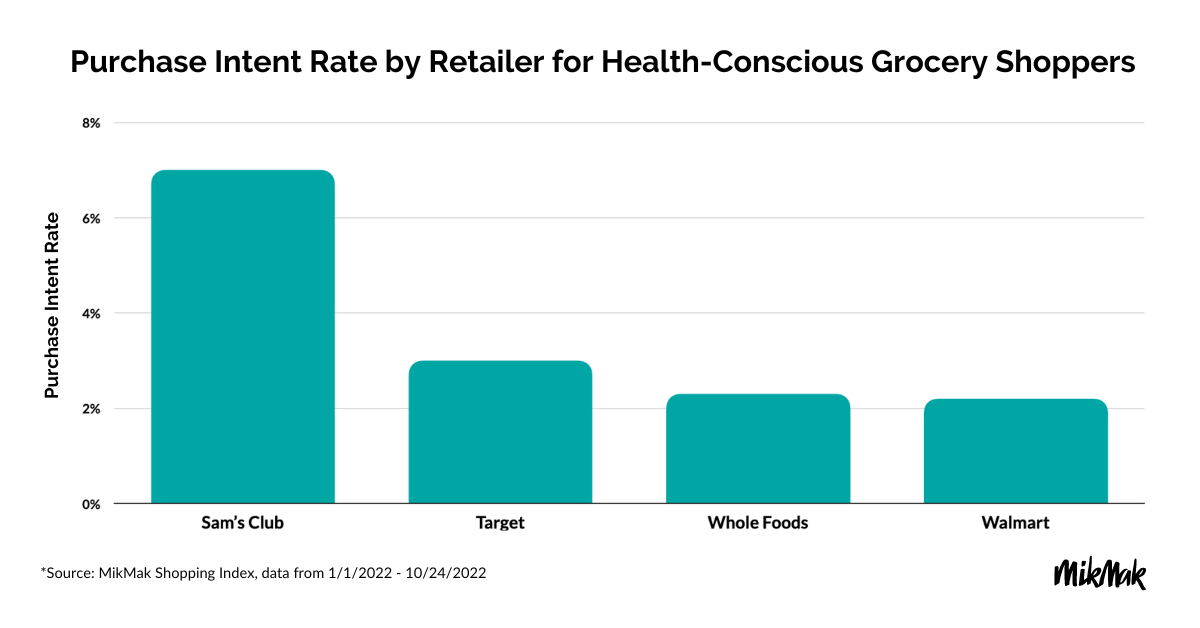 On the journey from social ad to shopping cart, provide a frictionless shopping experience for your health-conscious shoppers.
Brands are switching up the grocery aisles at both major retailers and local grocers, but if you want to encourage the most sales possible, it's important that your consumers are able to check out when and where they want. Wondering how that fluent shopping experience looks in action? Here's an example for health-conscious brands: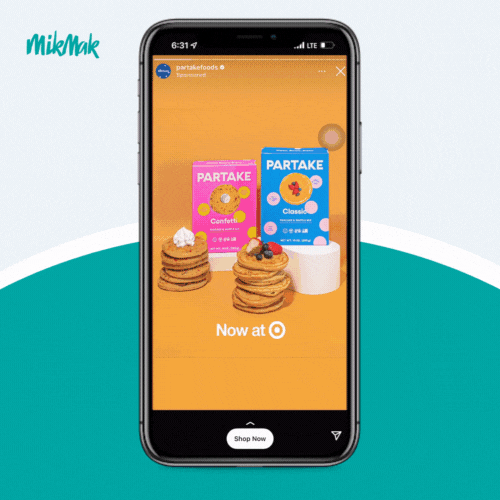 MikMak customer Partake built a seamless shopping experience that features their new availability at Target while linking shoppers directly with their products through MikMak. That way, they're meeting their consumers where each shopper prefers to buy.
You can give your shoppers a similar experience by using MikMak. Schedule a demo now to see how you can use MikMak to reach more consumers and secure more sales.