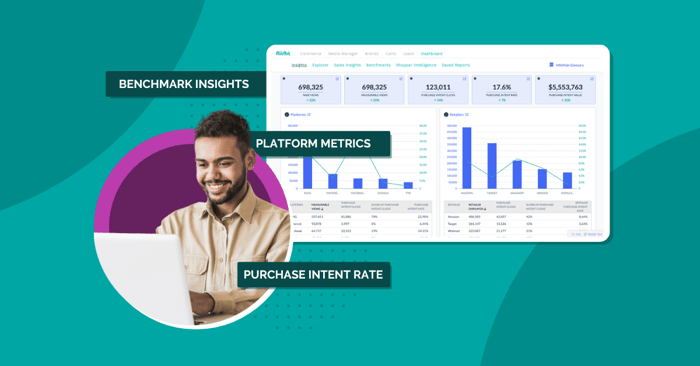 As consumers submerge themselves in the digital world, eCommerce data is flooding into brand marketers' offices, and first-party data is becoming more and more powerful.
With so much eCommerce data pouring in, it can be difficult to know how to use it to drive the most sales possible. That's why MikMak examined which data strategies are driving the most profit for our brand partners, and we discovered data patterns that can help you understand what your brand can do to increase sales.
Tomorrow's eCommerce Sales Strategies Will Rely on First-Party Data
The days of depending solely on third-party eCommerce data to drive your marketing decisions are coming to an end, and first-party data is quickly rising in importance. As data privacy rules stiffen, major companies including Google are shifting away from third-party cookie tracking.
However, companies still need to gather information about consumers, and first-party data appears to be filling the void. According to Sizmek data as reported by eMarketer, 85 percent of companies in the U.S. now say using first-party data is a high priority. That's good news for most retailers, who are sitting on a pile of eCommerce data. However, in order to wring the most profit out of first-party data, you'll need to learn to use it strategically.
How to Use eCommerce Data to Grow Your Brands
MikMak recently examined what's been working best for our top brand partners. Here are a few of the takeaways to help you start harnessing the full power of your eCommerce data.
Narrowing Metrics and First-Party Data Is Essential
Most eCommerce brands are drowning in data, and they don't always know how to use it effectively. It's why the first step toward propelling eCommerce sales with data is focusing on the metrics that will drive the most profit. Here is a high-level view of a few types of performance metrics that top brands are tracking:
Platform metrics: These metrics measure how your campaigns are performing on different platforms, such as Instagram, Twitter, and YouTube. A few examples of platform metrics include cost per click (CPC), organic impressions, and paid impressions.
Sales and checkout metrics: These are figures that track how much consumers are spending during their shopping sessions. Some important sales and checkout metrics are average basket size, retailer views, and retailer preference.
Consumer insight metrics: Consumer insight metrics provide a deeper look at shoppers' behaviors. A few insightful consumer metrics are percent of total sales by SKU, device type, and geolocation breakout.
---
---
Purchase Intent Is a Golden Metric
We're seeing top brand teams ditch focus groups and brand lift studies for real-time eCommerce data. And purchase intent rate (PIR) has stood out as a guiding metric for these enlightened companies. In fact, one MikMak brand partner, Sabra, used PIRs to reposition their full marketing, placement, and packaging strategy—and their sales jumped by 15 percent.
PIR plots the number of consumers who indicate their intentions to buy by clicking through at least one retailer. That way, you can see how consumers are interacting with different retailers, channels, and messages. With those insights, it's easy to follow real-time behaviors and adjust for more sales.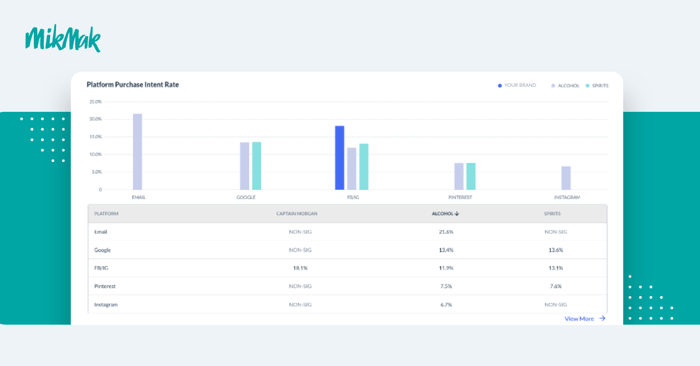 Top Brands Lean on Benchmark Insights
It doesn't matter how much first-party data is streaming into your company; to outpace competitors, you'll need to be able to see how your brands compare to other names. That's why benchmark insights are so important. MikMak Benchmark Insights compare brand performance across different retailers, location, marketing channels, platforms, and other shopping vehicles.
Those insights can reveal opportunities for brand teams to increase their ROI. For instance, one of MikMak's healthcare brand partners recently started using Benchmark Insights to understand how it stacks up against its competition. It used those insights to reposition its brand on platforms where its competitors were seeing success, including Pinterest, Pandora, and Google. That strategy paid off when the brand saw Google's PIR hit 16 percent—a figure almost three times higher than the industry average.
Inventory Awareness Is More Important Than Ever
Especially in the wake of recent supply chain disruptions, it's clearer than ever that your eCommerce data needs to improve inventory awareness. Simply put, when products are out of stock, sales suffer. In fact, according to a 2021 McKinsey report, 70 percent of shoppers will switch to a new brand when the product they want is out of stock.
To avoid inventory-related losses, top brands are tracking measurable views and PIRs by region. From there, brand leaders pair that data with retailer preference data to see how much inventory they need in any given area.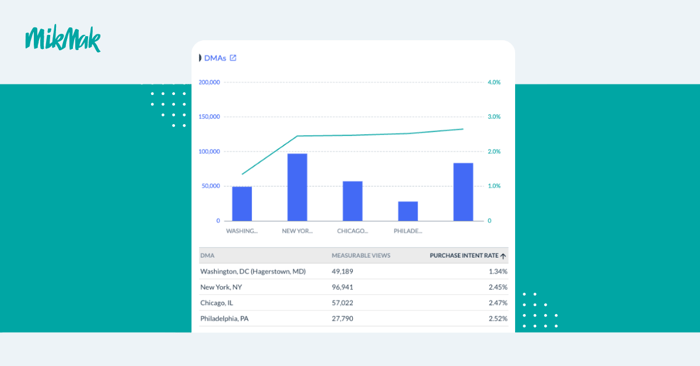 In terms of in-market traffic, we saw some minor shifts from last year's mix. Facebook and Instagram still dominated the Purchase Intent Clicks in 2022. However, TikTok presented itself as a major player, and continues to gain traction among brands as the short-form video platform continues to grow its user base.
Learn More Secrets to Accelerating Growth with eCommerce Data
To make the most out of eCommerce data, brands need to target the right insights and use them to propel their marketing strategies. Following a few best practices will steer your team in the right direction.
However, when it comes to driving sales with first-party data, these tidbits of advice are just the tip of the iceberg. Download our full guide, How to Use eCommerce Data to Accelerate Brand Growth, for an in-depth look at ways you can use your data to boost sales.