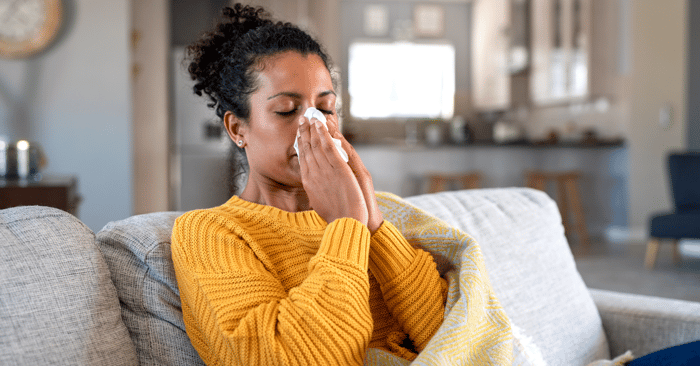 The CDC estimates that influenza was associated with 9 million illnesses in 2021-2022. Now, as flu and cold season is in full swing, consumers are on the lookout for Health and Wellness products. However, not every brand's products are connecting with these health-conscious consumers at the same rate.
We dove into the numbers to identify what top-selling brands are doing right and ways companies can seize new opportunities. Here's how to craft a marketing strategy that helps products reach more consumers when they're feeling ill.
How to Improve eCommerce Marketing for Health and Wellness Products
As the cold and flu season sets in, we're seeing a few eCommerce marketing strategies set brands apart from the competition. Here's how to prepare your products for an uptick in illness:
1. Stay in stock and offer a variety of fulfillment options
When a shopper is suffering from an illness, they want relief as quickly as possible. If the product they're searching for is out of stock or unavailable, they tend to switch to a new brand—and that can erode consumer loyalty. This mistake is causing many Health and Wellness brands to shed market share. In fact, eMarketer research found 19.8 percent of over-the-counter medicine shoppers recently switched from a national brand to a private label.
Here's how to keep from turning away shoppers and build your Health and Wellness brands:
Examine consumer preference data: Looking closely at

eCommerce consumer preference data

will shine light on what products, channels, retailers, and habits shoppers are relying on. That info can lay out a clear roadmap toward more sales during the cold and flu season.

Sharpen inventory management: Inventory management is essential if you want to deliver Health and Wellness products to consumers when and where they want them. Turning on inventory management

capabilities

with a partner like MikMak ensures that consumers know where to buy, and it keeps your product top of mind over competitors.

Reassess your fulfillment options: Especially when a shopper is feeling under the weather or has a sick kid at home, they're searching for the most convenient options possible. That's why it's smart to consider all of your fulfillment options, including fast delivery or in-store pickup. By finding the most convenient fulfillment option possible, you can add extra value to Health and Wellness products—and grow your brands
2. Identify the top retailers for Health and Wellness brands
Digging into the data and identifying the most successful retailers for Health and Wellness brands is another important way to sell more. Knowing where consumers shop can allow you to advertise to certain retailers and ensure availability at that retailer.
---
---
According to MikMak insights, Amazon has the highest share of Purchase Intent Clicks (PIC) among the five biggest Health and Wellness retailers with 33.8 percent. Walmart and Target follow Amazon, driving 32 and 18.9 percent of PICs, respectively.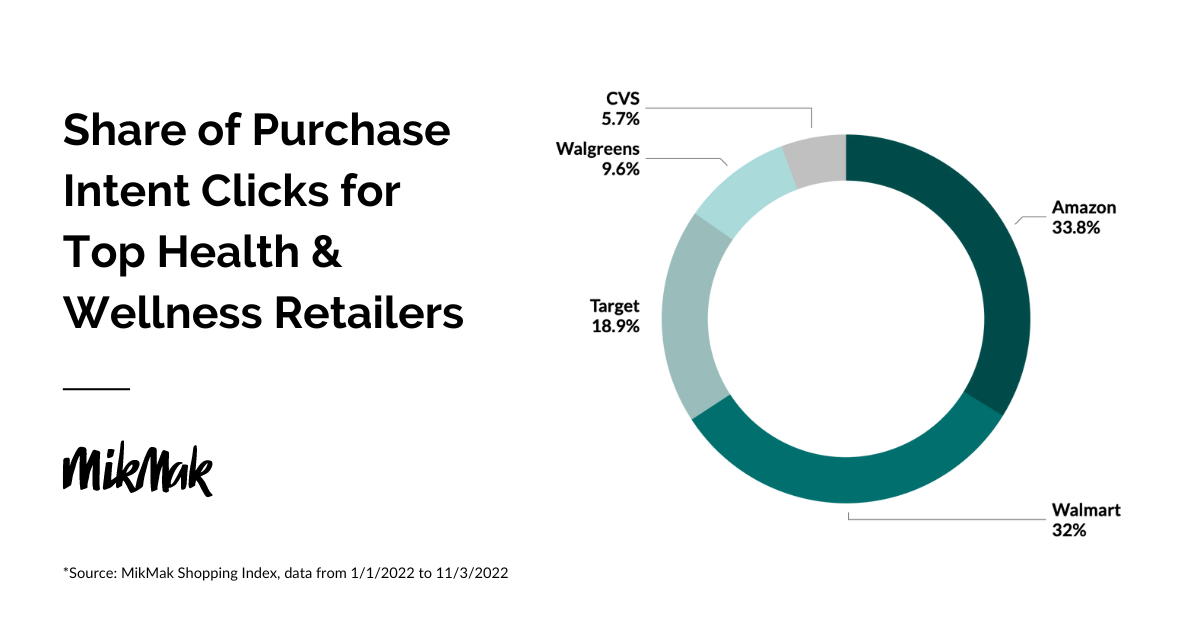 Trailing those big three retailers are the popular drug stores Walgreens and CVS with respective PIC shares of 9.6 percent and 5.7 percent.
3. Promote Health and Wellness products alongside groceries
Companies can also increase sales by preparing their eCommerce marketing strategies to meet the latest shopping behaviors. Currently, that means promoting Health and Wellness brands when consumers are grocery shopping.
According to basket-level data from the MikMak Shopping Index, for carts with an average basket size of two items, Health and Wellness purchases average $41.77 per order. Meanwhile, the average unit price for that same consumer set totals $19.45. This indicates that shoppers may be willing to buy multiple items or products with a higher-than-average price tag when purchasing Health and Wellness products.
What's more, in cases with product adjacencies, a large volume of Health and Wellness shopping baskets already contained grocery products. That indicates that, especially at large retailers like Amazon, Walmart, and Target, companies can boost their Health and Wellness products by weaving them into the broader grocery-shopping experience.
4. Enable eCommerce capabilities like shoppable media
To wring the most Health and Wellness sales possible out of the brand, companies need to enable shoppable media across their platforms. Here's an example of a brand that has used this strategy to boost Health and Wellness sales: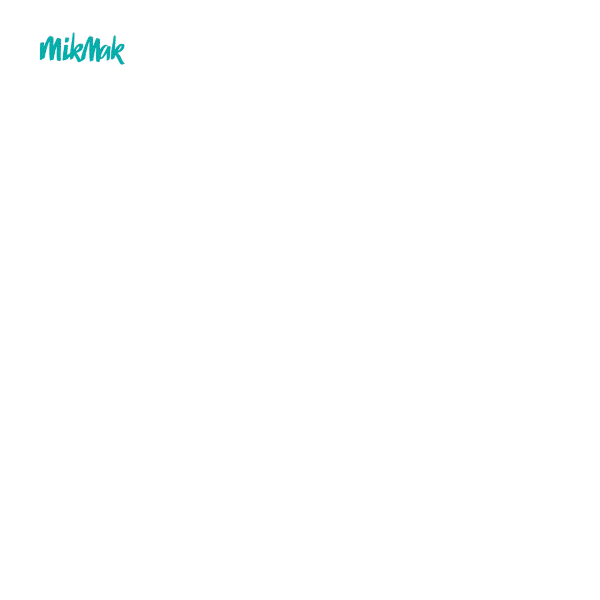 Ricola is using MikMak to create influencer marketing content on TikTok shoppable. This marketing strategy works by allowing consumers to click on ads and check out while they're scrolling through their "For You" pages. Not only does this approach funnel shoppers to Ricola's Health and Wellness products, but it also lets the brand view consumer data within their MikMak dashboard. That way, company leaders can track how much ROI influencer content is generating and see what advertising decisions will pay off most in the future.
Want to follow Ricola's lead and learn how to widen your product's reach? Download our free guide to learn how.