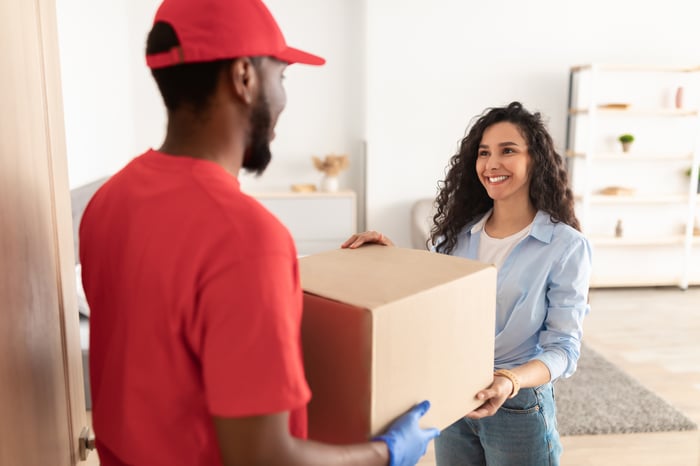 This year, Target and Amazon celebrated another set of retailer driven shopping occasions, or "Deal Days." Target advertised their deals as "bigger than ever" during the event, which happened from October 6th through the 8th. The retailer included deals on hot ticket gift items like toys and electronics and also specials on everyday essentials like kitchen products and vitamins. Meanwhile, Amazon had yet another Prime Day after the success of their July event. According to their recent press release, tens of millions of customers participated in Prime Day this year, ordering items from top-selling items across categories.
With deals on products of every type, these October events were the last major indicator of sale-related shopping habits before the Holiday Season begins. MikMak took a look at the data and trends to find out how consumers were buying this year, and what we predict for the near future.
Health & Personal Care, Home Care, and Grocery were the top categories for Amazon and Target during October's Deal Days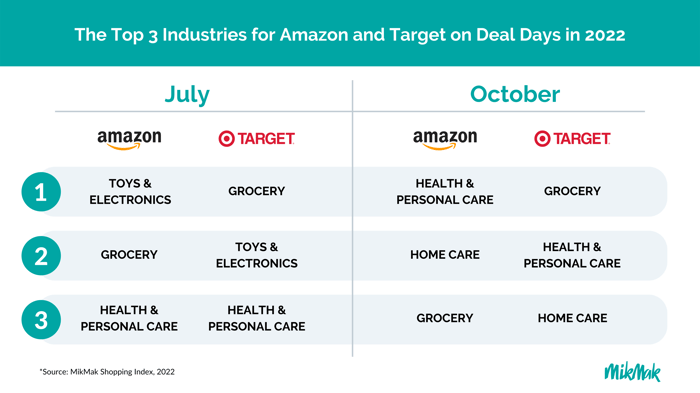 According to the MikMak Shopping Index, new categories emerged as top contenders for this year's deal days. Among brands on the MikMak Platform, the top performing categories for Amazon were Health & Personal Care, Home Care, and Grocery, in that order. Target saw the same categories as top performers but with Grocery as number one, Health & Personal Care items in second, and Home Care third.
---
---
With inflation being a rising concern of shoppers, coupled with the trends we see with these top categories, it is safe to assume that consumers used these deals as an opportunity to purchase their home essentials rather than big-ticket or luxury items that typically do well during retailer driven occasions. Furthermore, many people might save up to splurge on larger purchases during Holiday events like Black Friday or Cyber Monday. Whatever the case may be, it is clear that Home Care and Personal Care brands are the dark horses of eCommerce this year.
Deals during these events may repeat or extend through this holiday season
According to a press release from Target, this year's Deal Days were an opportunity for the retailer to tease the beginning of their holiday deal cycle. That said, similar categories and items may continue to be purchased throughout the next few months. Brands that communicate with retailers on when their products are on sale for the holidays can help guide consumers to their products when they are most likely to buy. Furthermore, knowing when your product is on sale can inform inventory needs, so consumers don't settle for a competitor when your product is not in stock.
Look at the data to inform what your brand needs before the quickly approaching holiday season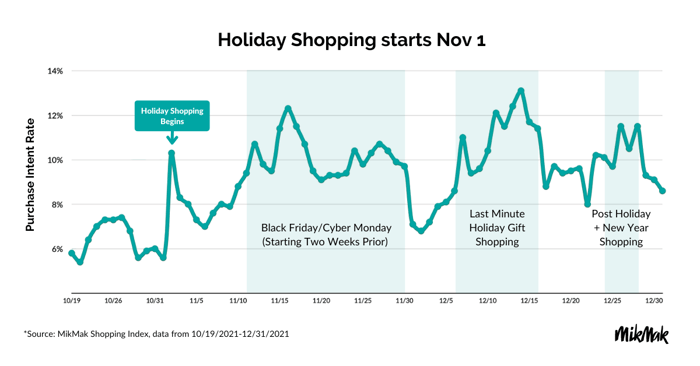 According to last year's shopping habits, MikMak predicts holiday shopping to fully take flight beginning on November 1st. To stay ahead of the curve, be sure you're watching trends that occurred during Deal Days and other promotions earlier this year to predict how your shoppers will behave.
For more information on how your brand can access actionable insights to put to use this holiday season, schedule a demo today.