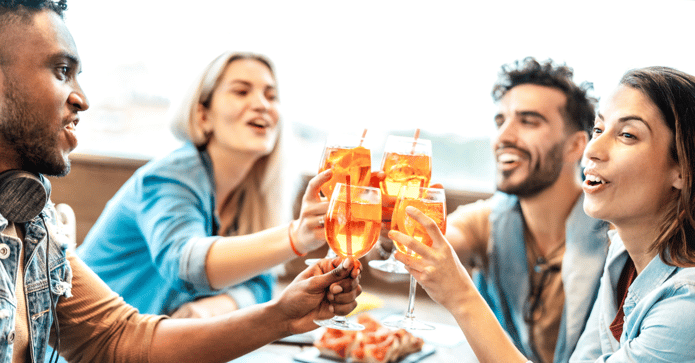 Since the pandemic, Alcohol sales have shot higher, and they aren't letting up. According to Statista, revenue from alcoholic drinks has nearly doubled since 2019, leaping from $8.43 to $15.46 billion in the U.S. Globally, estimates say eCommerce Alcohol sales will surge 34 percent by 2026.
Not every eCommerce brand is cashing in equally on this growing segment. Market data shows that everything from creative techniques and ad timing to social channels, product offerings, and more are impacting eCommerce Alcohol sales.
These insights from MikMak's 2023 Alcohol eCommerce Benchmarks and Insights reveal what's resonating with alcohol shoppers and which eCommerce marketing strategies are grabbing ahold of this growing market.
Instagram is the leading social platform for eCommerce advertising
MikMak insights found Instagram draws in more alcohol purchases than any other social eCommerce platform, by far. Instagram captures a Purchase Intent Rate (the percentage of consumers clicking through at least one retailer) of 16.7 percent.
Facebook is the next best performing eCommerce platform for Alcohol, with an 8.9 percent Purchase Intent Rate. YouTube slides into the third slot with a 5 percent Purchase Intent Rate. Pinterest slips in next at 2.5 percent, and Snapchat brings in 2.1 percent.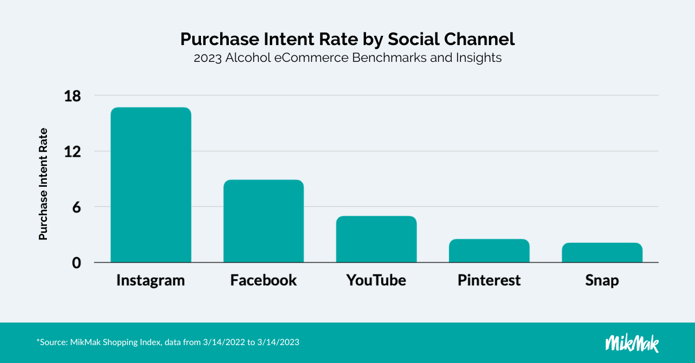 To attract the most Alcohol shoppers possible, work these top-performing social eCommerce platforms into your eCommerce marketing strategy, and craft your ads to fit each social channel's audience.
Winning eCommerce marketers are paying attention to their retailer mix
The most successful eCommerce marketers are pairing up Alcohol ads with the retailers shoppers prefer. When it comes to in-market traffic, Drizly is the top retailer for Alcohol. Among the Top 5 Alcohol retailers, Drizly drives 37.7 percent of Purchase Intent Clicks, which describes how often a shopper clicks through to at least one retailer per session.
Walmart gathers the second-highest Purchase Intent Click percentage, with 20.8 percent, and Instacart sits a shade below at 19.8 percent. Total Wine trails in the fourth spot at 15.2 percent, and Kroger slips into the Top 5 at 6.5 percent.
By giving customers several retailer options and targeting these popular outlets, including Drizly, you can simplify Alcohol shopping and encourage more eCommerce sales.
Whiskey and canned alcohol are dominating eCommerce sales
When it comes to Alcohol products, whiskey and canned alcohol sales are flourishing. Whiskey-based canned cocktails are the most popular item for Alcohol shoppers. Peanut butter whiskey, peach whiskey, and general whiskey also secure spots in the Top 10 most popular Alcohol products.
In addition to the top-selling whiskey canned cocktail, vodka-based canned cocktails, and premixed long island iced tea also land in the Top 10. Other Top 10 Alcohol products include vodka, rum, and beer (in 12-packs).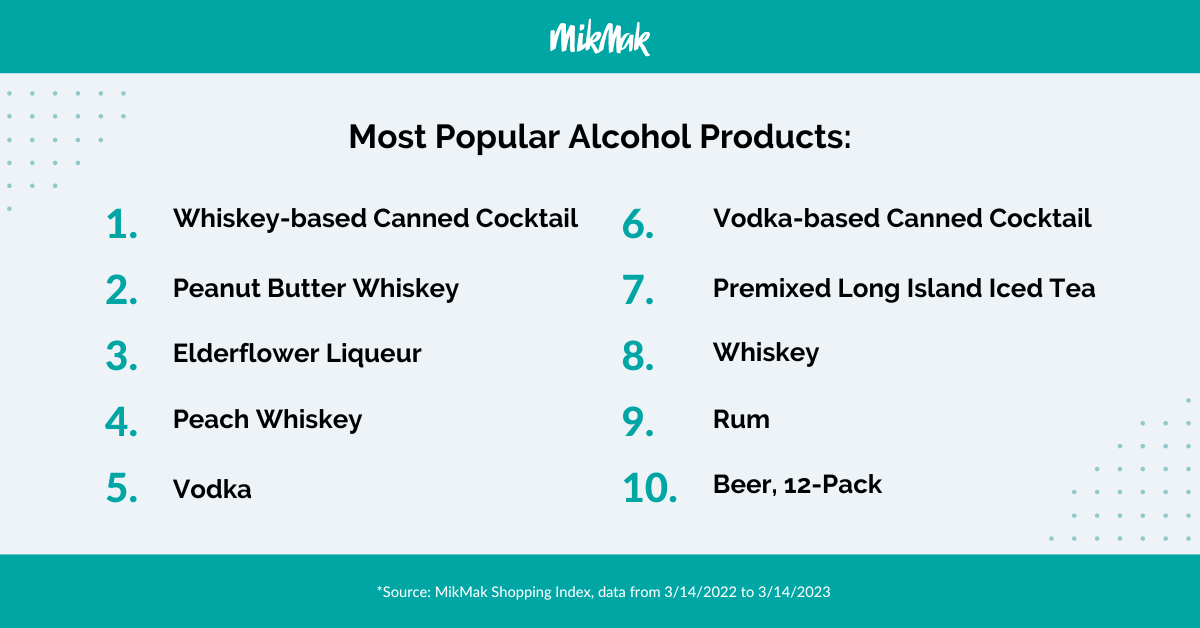 ---
---
Top-performing Alcohol ads are strategically timed
MikMak insights also reveal that timing Alcohol ads right can boost sales. Overall, Alcohol shoppers are most active in the evenings, within the middle of the week.
Thursday is by far the most popular shopping day for online alcohol consumers, with 14.8 percent of Purchase Intent Clicks from in-market traffic falling on that day. Tuesday and Wednesday are also hot days for eCommerce alcohol sales. Those three mid-week days all split a Purchase Intent Rate of 8 percent.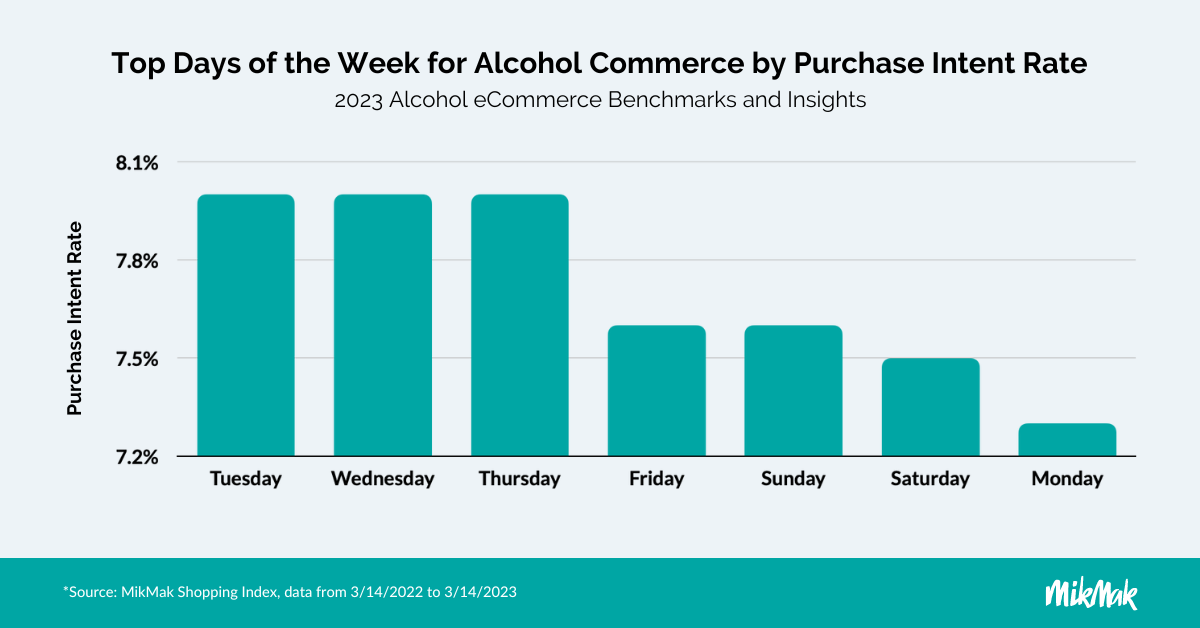 Alcohol shopping also spikes in the evenings. MikMak data found alcohol eCommerce sales jump at 7 p.m. and 6 p.m. ET, with each time slot hitting Purchase Intent Rates above 8 percent.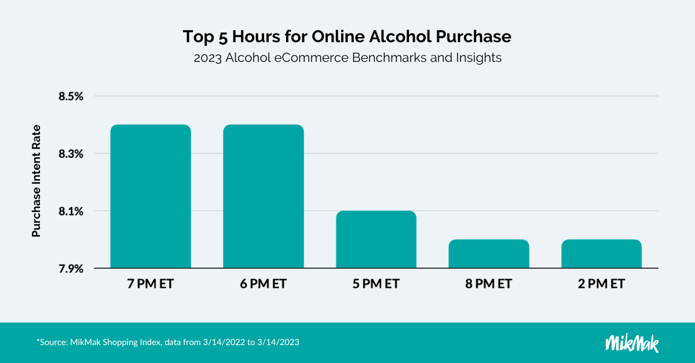 Effective Alcohol eCommerce advertising follows a formula
Brands that follow a few Alcohol eCommerce advertising best practices snag more attention and pull in the most Alcohol sales. These tips will help you craft eye-catching Alcohol ads:
Build crisp, visually appealing Alcohol ads
Display your product's value quickly
Create a clear call to action
Use MikMak to optimize your content and connect your consumers with local products
High-performing alcohol ads to learn from
These examples of shoppable content are capturing alcohol consumers' attention:
Budweiser and Michelob Ultra's Super Bowl Search Ad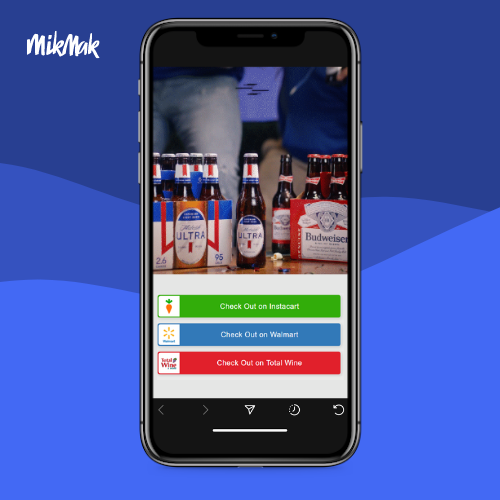 Budweiser' and Michelob Ultra's "Super Bowl Search" advertisement attracted 354 Purchase Intent Clicks and a Purchase Intent Rate of 8.5 percent.
Cutwater Super Bowl Ad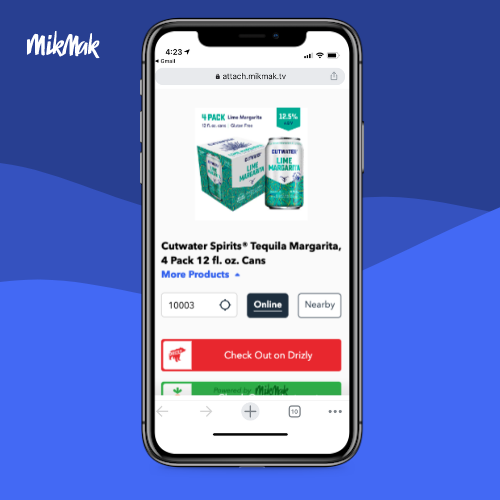 Cutwater's Super Bowl ad generated 1.1K Purchase Intent Clicks and a 3 percent Purchase Intent Rate.
Both eCommerce advertisements use quick, clear shots of the brand's products. They also connect the product to fun social events right away and make it easy for shoppers to follow through on purchases with flexible checkout options.
Uncover more 2023 Alcohol trends to inform your eCommerce strategy
These insights can help you plan out an eCommerce marketing strategy that attracts more alcohol shoppers, but they're just the beginning.
Read our full 2023 Alcohol eCommerce Benchmarks and Insightsreport to learn more about how alcohol shoppers are buying and how you can capture more shopping sales from this growing group.