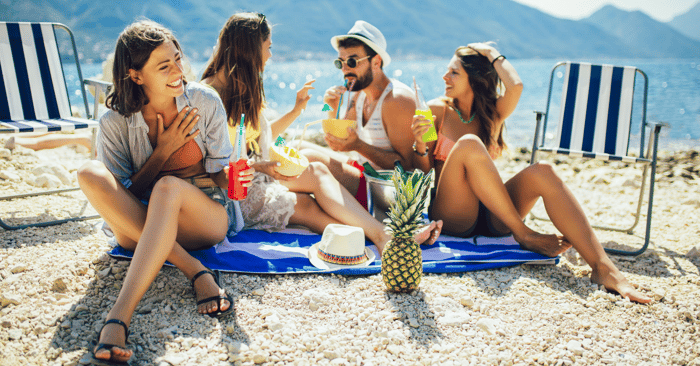 With the weather warming up in the Northern Hemisphere, shoppers are packing their coolers with snacks and drinks for outdoor activities. Now is an ideal time for Grocery and Alcohol brands to position themselves to consumers to be go-to summertime refreshments.
Here's what MikMak found out about how shoppers are making purchases this time of year.
Alcohol brands saw demand peaks earlier in last year's summer; Grocery brands saw them towards the middle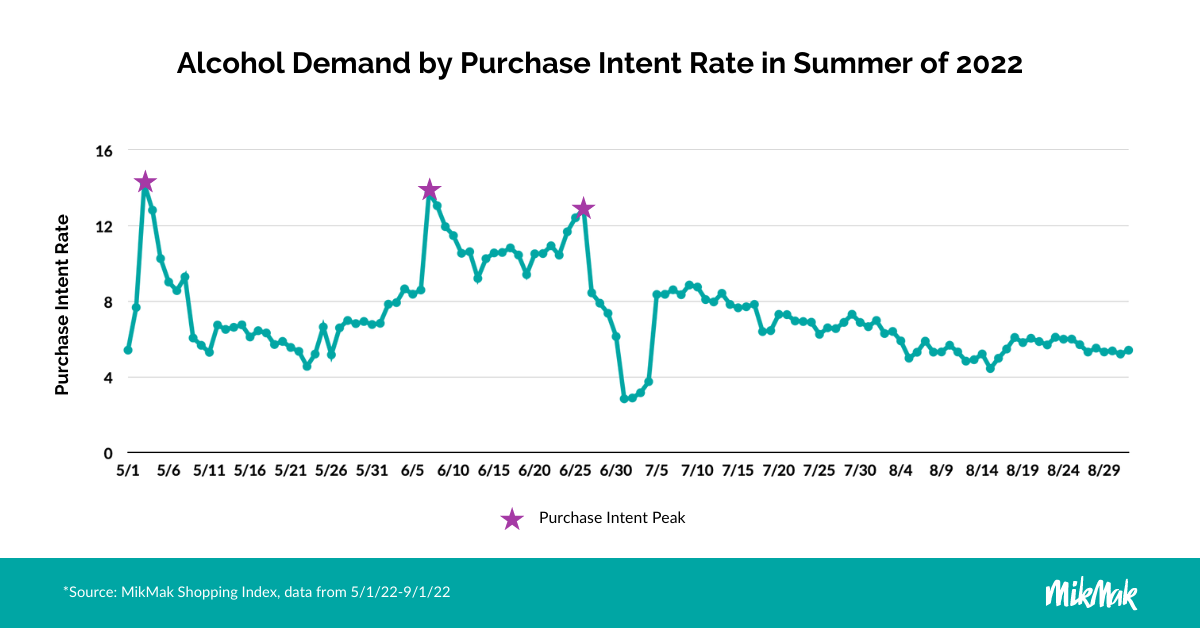 Last summer, Alcohol brands in the MikMak Shopping Index saw their first significant demand peak just two days before Cinco de Mayo. Additional peaks happened at the beginning and end of June, a popular month for pool parties, beach trips, and cookouts. In late summer, Purchase Intent Rates (or the rate that a shopper clicks through to a retailer from shoppable media) stayed in the middle to low range for Alcohol brands.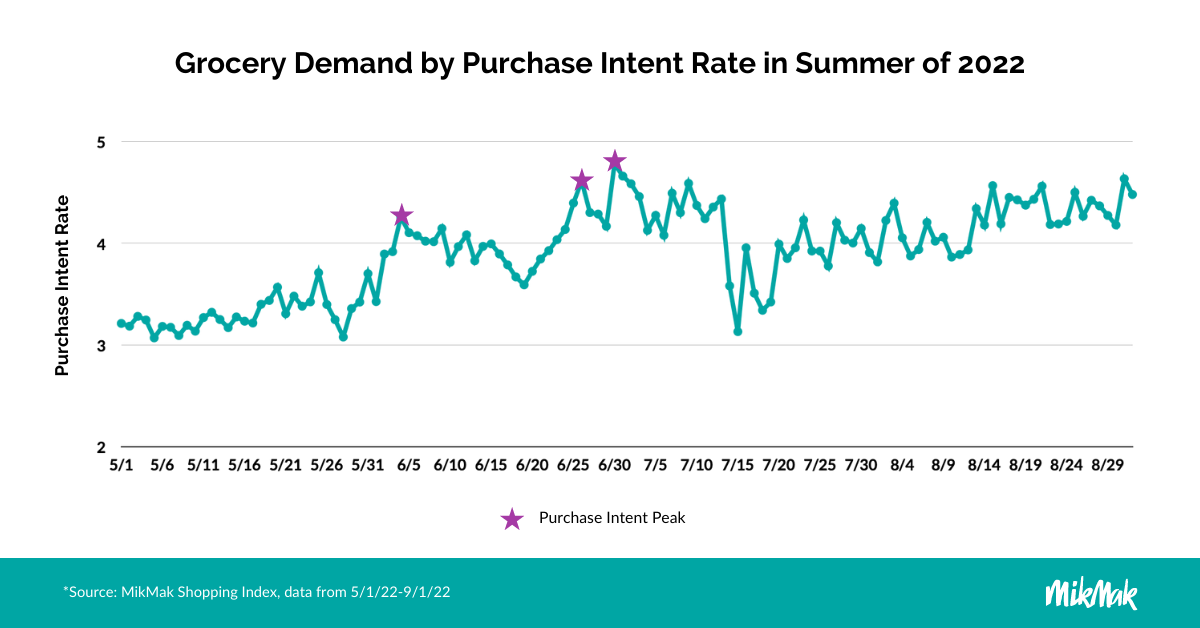 On the other hand, Grocery brands saw lower-than-average Purchase Intent Rates near the beginning of summer, and demand peaks at the beginning and end of June. Demand remained relatively high through July and August, and rose as autumn approached.
Bourbon has the highest Purchase Intent Clicks for Alcohol; enchilada sauce is top for Grocery
According to Better Homes & Gardens, the elderflower liquer-based Hugo Spritz is poised to be the cocktail of the summer for 2023. Likewise, MikMak's recent 2023 Alcohol Benchmarks and Insights Guide saw elderflower liqueur in its Top 5 most popular products based on Purchase Intent Rate.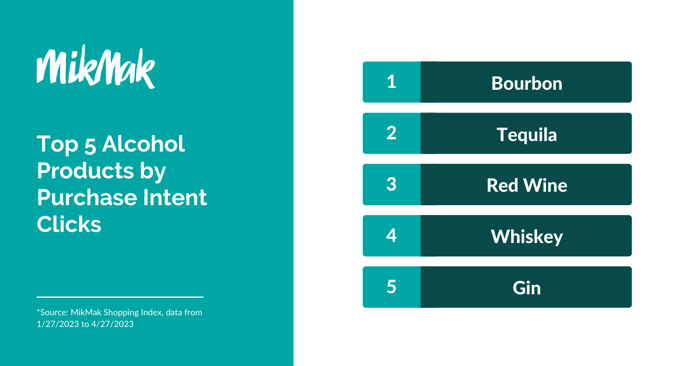 However, a bourbon product is currently seeing the highest share of Purchase Intent Clicks (or in-market traffic). Meanwhile, tequila is second, red wine is third, whiskey is fourth, and gin is fifth.
---
---

For Grocery brands, leading up to summer, an enchilada sauce product is seeing the most Purchase Intent Clicks. With enchiladas featured as a Cinco de Mayo favorite, we can expect this product to continue to be popular through early May. Following the enchilada sauce is a leading peanut butter cup brand, sliced cheese, granola bars, and tea bags, in that order.
Follow eCommerce best practices for your Alcohol or Grocery brand to see success in the sun this summer
With Cinco de Mayo, Memorial Day, Pride Month, Independence Day, Labor Day, and just general summer vacations and outings, there is a lot to celebrate in the summer time. Food and drinks will be the top of mind for many consumers. How is your brand going to stay at the top of summer shopping lists? Here's some tips from MikMak:
1. Instagram has the highest Purchase Intent Rate for Alcohol shoppers. Youtube has the highest for Grocery shoppers
While your brand should take an omnichannel approach and find its shoppers at multiple social touchpoints, research from our recent Alcohol Guide found that Alcohol shoppers from Instagram are the most likely to click through to a retailer. Meanwhile our Grocery Guide found that those shopping for Grocery products are most likely to click through to a retailer on YouTube.
2. Incorporate inventory management capabilities, and stay in stock at a variety of retailers to protect your market share
Partner with an eCommerce enablement software like MikMak and enable inventory management so shoppers can see where your products are in stock and consider purchasing backup SKUs if there is no availability. This will help you avoid losing sales to competitors.
Also, knowing where your consumers are shopping can inform you of where your product will most likely be shopped for so you can avoid being out-of-stock. For Alcohol, recent data from the MikMak Shopping Index found that Drizly is the top-preferred retailer. For Grocery, Walmart wins first place. Ensure your brand is available at your shoppers' preferred retailers.
3. Develop more nuanced insights for consumer relevance
Stay close to your data and notice trends in how consumers are shopping for your products. Check your performance against category (and subcategory!) benchmarks to see how you stack up against the competition. You can even A/B test creative and messaging to see if purchase intent increases.Find out more about how your brand can discover nuances, consumer behaviors, and create a seamless shopping experience for shoppers that keeps them buying your brand over its competitors. Schedule a demo with MikMak today.