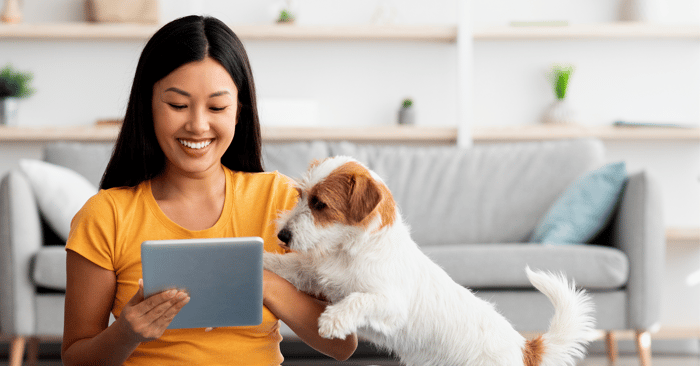 According to the American Pet Products Association, 70 percent of U.S. households own pets—adding up to 90.5 million homes. With pet owners making up such a large portion of the market, brands could seize a major opportunity by marketing to this demographic—whether it's through products specifically for furry friends or not.
New insights reveal how to capture the pet-owning population's attention and corral more sales. MikMak took a deep dive into how pet owners shop and how your brand can redirect your eCommerce strategy to reach them.
Work social commerce's biggest traffic drivers into your eCommerce strategy
Pet owners visit social platforms to show off, learn about, and shop for their pets. And brands can supercharge their eCommerce strategy by building creative ads for the channels that this large demographic uses most: Facebook and Instagram, YouTube, and Pinterest.
According to the latest MikMak insights, Facebook and Instagram drove the most traffic from pet-owning shoppers, by far. Facebook and Instagram combined to carve out 78 percent of in-market traffic.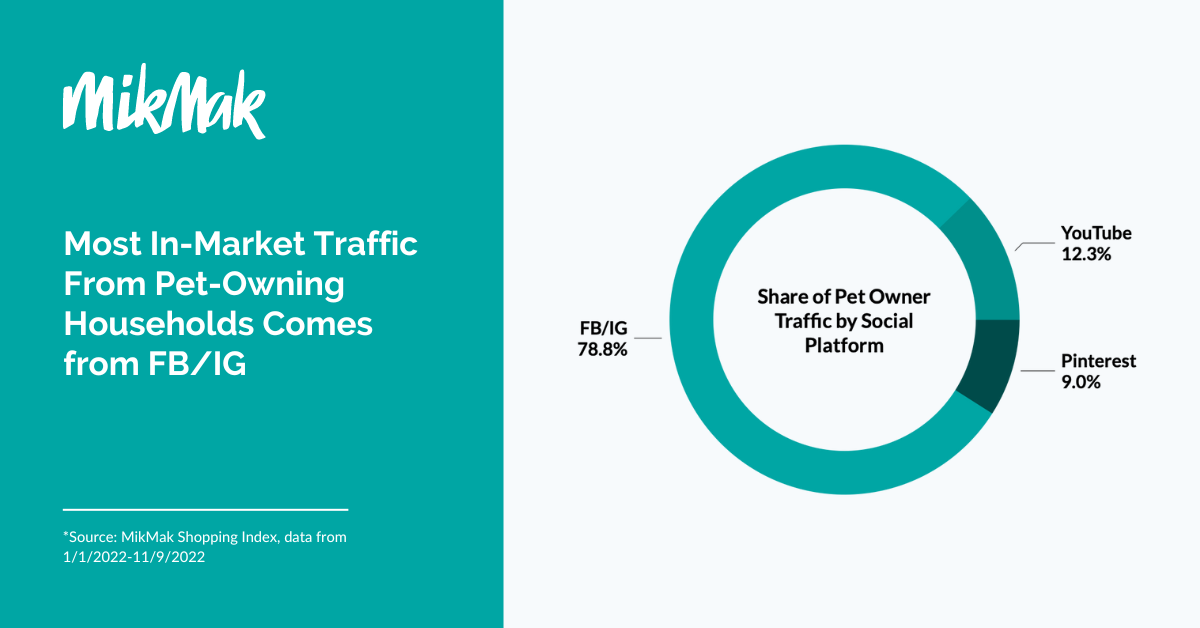 The next-best performing social commerce platform among pet owners was YouTube with 12 percent of traffic share. Pinterest trailed slightly behind in the third spot with just under 9 percent.
To reach pet owners via social commerce platforms, craft creative messages specifically for pet owners and weave them into your eCommerce strategy. It's also a good idea to tailor those ads to fit the social commerce platform that potential consumers are visiting. Here are a few eCommerce strategies to consider as you market to pet owners via social media:
Facebook and Instagram
With these joint-owned social eCommerce staples, customers are often bobbing in and out of links—hopping from one personalized shopping experience to the next. That means that in order to get the most out of these platforms, brand marketers need to understand both how shoppers are engaging with messages on these sites and where they're shopping afterward. That fuller shopping story will tell you what messages to amplify within your eCommerce strategy.
YouTube
This social platform includes a heavy amount of educational, long-form content, which presents an opportunity for eCommerce brands to capture pet owners' attention. Consider building ads that feature activities pet owners can do with their pets, helpful tips for pet owners, or other content that can add value while also highlighting your product.
Pinterest
This is the site pet owners head to when they're building their shopping lists, looking for DIY tips, and searching for inspiration. The best-performing Pinterest ads are highly visual, demonstrate the product's value, and paint a scene about a lifestyle rather than just a product. Brands can draw in shoppers by creating sharp visual ads that highlight pet owners' lifestyles or lay out helpful lists for pet care.
Target two-person pet-owning households with your eCommerce strategy
MikMak found pet-owning households with two people were the most likely group of pet owners to shop online. The next-most common scenario for pet-owning shopping is households with one owner.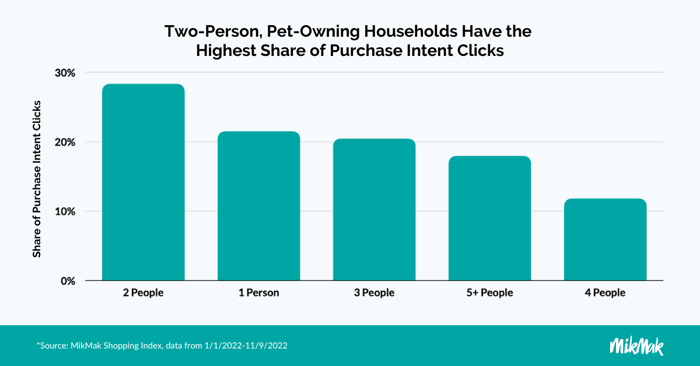 This pattern could mean young individuals and couples are shopping for pets most often. Additionally, MikMak saw similar patterns in our recent Grocery Benchmark Report, which found that couples without children shopped for groceries the most.
This shared link between grocery shoppers and pet owners suggests that you could work product adjacencies into your eCommerce strategy. Most grocery retailers also sell pet products, so dig into the data and identify what grocery products pet owners are shopping for. From there, set up multi-product promotions to encourage a fuller shopping basket.
---
---
Take note: Pet owners are buying a mix of items for their pets, and themselves
According to MikMak data, pet owners often check off their own personal shopping lists and buy for their pets in the same trip. Although pet food did hit the top of pet owners' buying list, toys & gaming, home care, and personal care products have all consistently ranked in the top 10 most popular items for pet owners.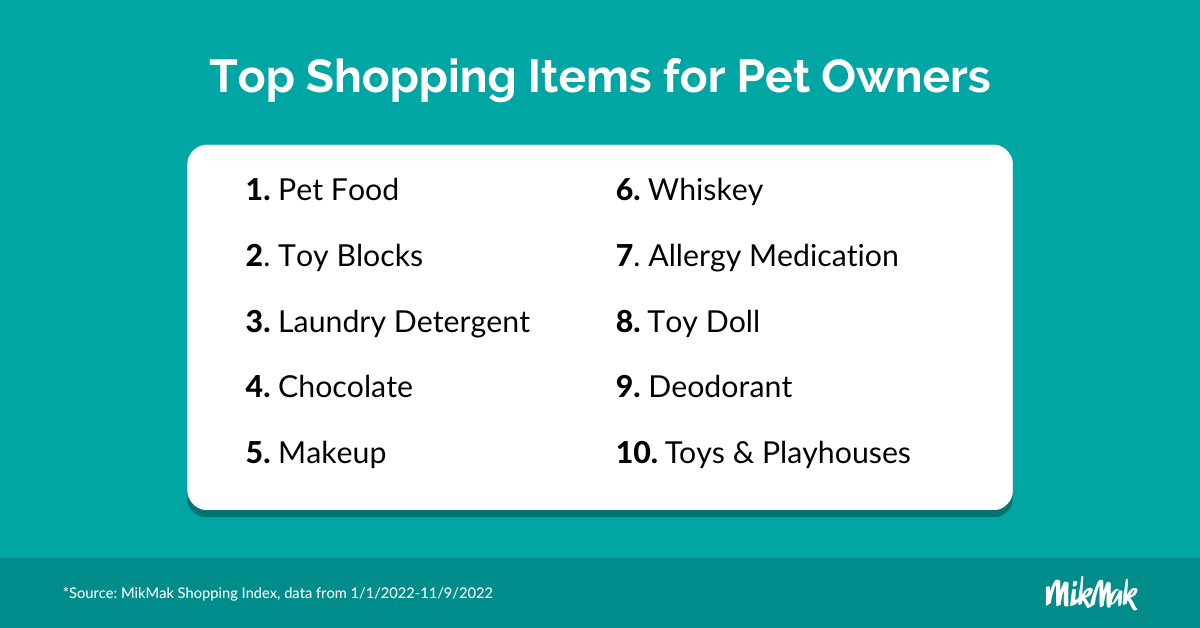 Brands can tap into these shopping patterns by targeting pet owners across product categories. For instance, Marc Jacobs recently featured a dog in one of their social eCommerce holiday ads. The ad took off and became a top performer on TikTok.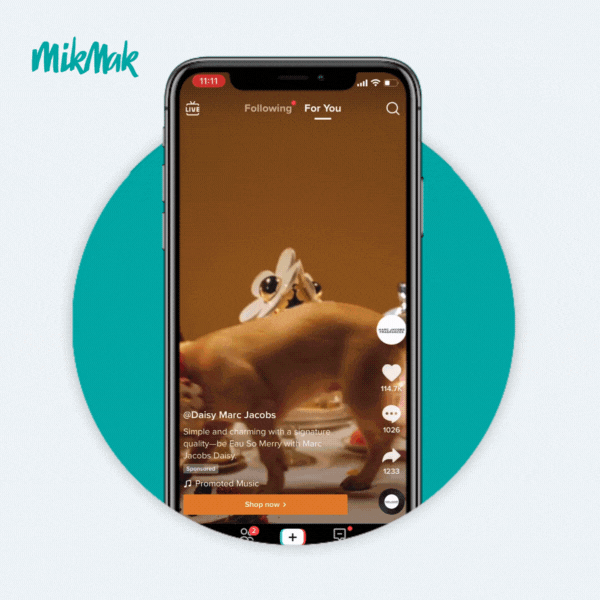 Use Data to Test Ad Performance with Pet Owners
To tap into the pet owner market, brands need to track data and adjust. That means A/B testing different ads, measuring how well each ad performs with pet owners, and tweaking ads until your eCommerce strategy is fine-tuned.
Want to see how your campaigns are performing and push your eCommerce strategy forward? Schedule a demo with MikMak today to see how you can use data to reach more shoppers.