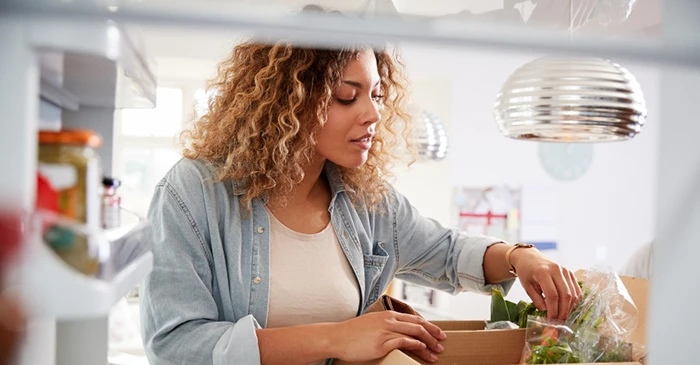 The COVID-19 pandemic pushed consumers to buy their groceries online in order to practice self-isolation and social distancing. People who otherwise may never have considered online grocery shopping are learning the process out of necessity. According to Digital Commerce 360, 90% of online grocery shoppers expect to continue buying food online once the pandemic is over. At this pace, online grocery shopping is on track to account for over 20% of total U.S. grocery sales by 2025.
Even before the COVID-19 pandemic, U.S. grocery eCommerce grew 18.2 percent to $19.89 billion in 2019 and ranked as the fastest-growing product category online, according to eMarketer research. This fresh retail perspective has allowed traditional grocers to become omnichannel and give shoppers a seamless experience that translates from brick-and-mortar to online shopping for grocery delivery or pickup.
With this surge in grocery eCommerce, the food-and-beverage industry should transition its online grocery marketing strategies for optimizing growth. While we are learning valuable insights about how consumers shop for grocery items online, here are a few best practices to navigate some of the common challenges when driving engagement and purchase intent.
---
---
Common eGrocery Pain Points
With online grocery being vastly different from other industries, it comes with its own unique set of challenges. Inventory fluctuates quickly, margins are razor thin, there are data disadvantages, and customer loyalty is hard to come by. With every unique set of challenges, there is a unique set of solutions:
Inventory
Grocery can sell out quickly, which makes inventory management difficult. This problem is even more prevalent in the eGrocery space, where you may have online media directing potential customers to an out of stock product detail page. Not only is this resulting in wasted ad spend, you're also creating a poor customer experience—one that doesn't lead to a sale. It's important that eGrocers put mechanisms in place to ensure customers are only being directed to pages with in-stock items, or at the very least, back up SKUs.
Margins
It's no secret that margins are really tight in eGrocery. In order to be profitable, it should be easy for customers to add more than one product to their cart at a time. For example, let's say someone is watching an online recipe video. Ideally, this person would be able to add all of the ingredients to their cart with a single click. If they have to search for all the products individually, then you've likely already lost their business.
Data
Leaning on data to understand shopping preferences and consumer behavior is crucial in eGrocery. For most of the data boom, grocery brands couldn't benefit from these analytics because their products were sold by third-party retailers. However, thanks to the pixel (and companies like MikMak), grocery brands can now leverage this valuable insight to guide future campaigns.
For example, data enables grocery brands to build qualified shopper lists based on how often customers need to restock their pantries or refrigerators. They can also use past purchase history to understand what items customers are purchasing and recommend complementary products to add. Finally, data makes it possible to create hyper targeted messaging that segments audiences by geography, taste profile or dietary needs.
Choice
Consumers like having the power to choose, and giving them the ability to do so when they shop online is an important part of an eGrocery store front. More options on where to check out also provides shoppers more options to find your product in stock, leading to higher conversion. Thus, having multiple shopping cart integrations will entice consumers to follow through with purchases. You can often see up to a 4x lift in add-to-carts when giving the power to customers to choose the retailers they love most, compared to having only one option.
Online Grocery Marketing Strategies
1. Know Your Audience
Marketing success for online grocers is dependent on knowing your audience—truly KNOWING them and what they care about. This is crucial to understand before creating the content you use to reach your targets through paid campaigns. Take any opportunity to showcase your brand's personality and voice through curated posts, and frequently test and optimize your campaigns. This will allow you to evolve and narrow in your content to shift toward what is working. Try and create content that is shareable to increase social visibility. Valued customers sharing your content with friends and family online helps build brand trust. This type of online word-of-mouth buzz can be an easy way to grow your community and cultivate the one you already have.
2. Build a Strong Digital Presence
According to a study from Retail Feedback, more than 63 percent of shoppers interact digitally with a supermarket. Many consumers today report that they check for digital circulars, create digital shopping lists, and are always on the hunt for special promotions, recipes, nutrition advice, and so much more. Because shoppers are actively seeking out this information on social media or through an online search, this leaves a big opportunity to drive this existing traffic to your own channels.
3. Invest in the Right Technology
Investing in the right technology solution can be a game-changer in overcoming common eGrocery challenges. For example, with features like basket building, you can profit even with thin margins by making it easy for consumers to add multiple items in one click. Additionally, technology solutions like MikMak can help eGrocers solve common inventory management issues by enabling the add-to-cart functionality only for products that are in stock. Not only will this prevent wasted media spend, but you'll also improve the shopping experience.
Keeping your strategies data-driven, keeping your baskets buildable, syncing your inventory with your campaigns, and making customer loyalty a priority are the best ways to keep your brand top of mind when a shopper gears up to restock the fridge.