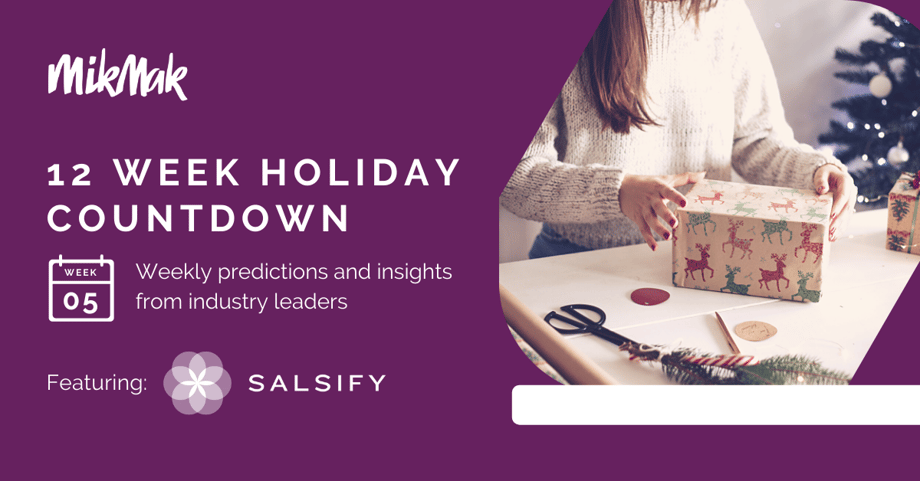 A recent eMarketer report showed that 31 percent of US adults will start holiday shopping before the end of October. With Halloween soon behind us, these early shopping trends are taking form. For week five of the MikMak Holiday Countdown, Dom Scarlett, Director of Content Marketing at Salsify joins us with some just-in-time recommendations for you on how to optimize your marketing initiatives for the holiday digital shelf.
MM: Hi Dom, thank you so much for joining us for MikMak's Holiday Countdown. We're seeing a lot of excitement around how consumers are shopping more and shopping earlier this holiday season. Can you tell us a little bit more about how Salsify is seeing this is playing out?
DS: Of course, and thanks for having me. You're right, we are also seeing that consumers are willing to spend more online this year than ever before. However, for 86 percent of them, the caveat is that this attitude is reserved only for brands they trust. That means this holiday season, it's more important than ever to focus on fostering trust.
MM: That's a very important distinction to make for brands. General willingness to spend more doesn't capture where this money will be spent. Our Shopping Index is also tracking this trend in the form of bigger basket sizes during check out. What are some ways that brands can build and reinforce this trust?
DS: Well, there are three ways to build consumer trust. The first place to start is with product pages. This is where consumers go when they are most interested in buying your product, and one of the places where it is easiest to lose sales. So your product pages should be comprehensive and transparent. Really take the time to flesh out your product details.
Secondly, provide your customers with enhanced content. 45 percent of shoppers reported that high quality images and detailed product descriptions were among the top three reasons they trust an online product. If you have to focus your efforts on one area, focus on creating enhanced content.
Finally, highlight your products' quality! Ultimately, consumers want to know what they are getting when they place an order.
---
---
MM: That's right, having solid product detail pages with reviews is a key step to check off for the holidays. Let's talk about tactics that can drive bigger baskets and more sales. What are some recommendations you have for brands both online and in stores?
DS: Consumers want convenience. This is true when it comes to discovering and researching products, as well as buying and receiving them. Brands should also consider that 77 percent of shoppers say convenience as a reason for shopping online in 2021. This shift translates to increased demand for easy fulfillment options like BOPIS, same-day delivery, and curbside pick-up. We predict these behaviors will continue.
What we shouldn't neglect too is the power of discounts. Nearly half of shoppers compared prices online across several retailers before purchasing in the last three months. The 2020 Holiday Shopping Trends survey reported that 41 percent of respondents said they used a holiday discount. Some reports even show that 74 percent of consumers who don't prefer buying via a mobile device would do so in order to redeem a discount. So it's essential to offer holiday discounts.
MM: We've long known that social channels are an integral part of the customer journey, and that social commerce can be seen as "the third shelf" in addition to online and in store shopping. In fact, MikMak has been seeing more than half of all shopping traffic originating from social channels. What's your perspective on that?
DS: It's true, brands should certainly not neglect the growing importance of social commerce. Even as consumers re-engage with brands in person, their newfound love for content creators and social influencers is not going anywhere, and social commerce is poised to grow by $2,051 billion during 2020-2024.
MM: And what do you think is the best way for brands to be making social commerce part of this very omnichannel holiday season?
DS: Start with innovative and cohesive ways for brands and shoppers to interact across channels: Consumers will visit you online, via your mobile app, on social media, and in-store. Consider cross-promoting customer experiences across channels. For example, create a holiday-themed area in your store where users can take a picture and share a branded hashtag.
Another strategy is to start a flexible rewards program: A customer loyalty program is a stellar way to encourage customers to engage with you on various platforms. Consider linking a member's reward number that is equally accessible on your website, app, and in your store.
MM: Thanks so much for sharing all your insights and actionable strategies with us, Dom!
DS: Thanks for having me!