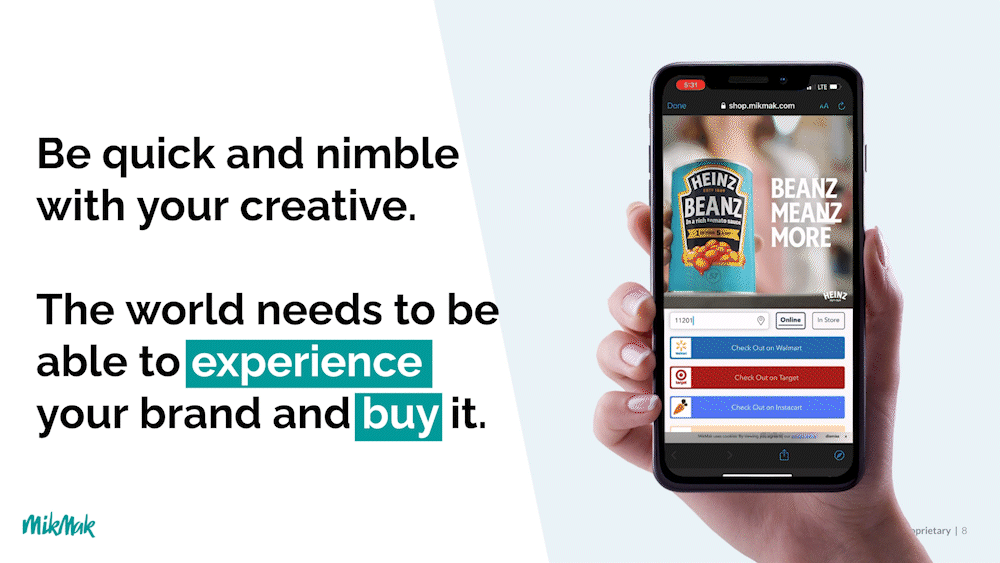 All shoppers have their favorite brands, and it's a grocery brand's dream to become a staple in the pantry or a part of tried and true recipes in the kitchen. So with countless options at the store and online, what can global brands do to stay top of mind for their consumers?
At the recent Digital Food & Beverage Conference in London, Rachel Tipograph (MikMak CEO) and Alex Wade (The Kraft Heinz Company's Head of Media & Digital, Northern Europe) reviewed these data strategies for grocery brands to stay on their consumers' shopping lists.
Evolving consumer behaviors and brand strategies
Data-driven messaging becomes exceedingly important with social commerce strategy. For example, Rachel shares that based on MikMak's Shopping Index, young couples without children are most likely to buy groceries online. What does this say about online grocery shopping? Perhaps that online grocery messaging would resonate more with Millennial and Gen Z households. What's more, some of these couples may decide to have children over time. When they do, should brands assume that their purchase intent stays the same or shifts?
Rachel also shares the finding that more women are buying alcohol online than men. Could this signify that the "gender gap" between alcohol purchases is closing, with eCommerce being the primary driver? How could this impact the messaging strategies of alcohol brands when it comes to online shopping? While developing content for the consumer, remember that creative assets and how they are leveraged become a shopper's experience of a brand. Like seeing advertisements in real life or walking into a brick and mortar store and seeing signage around the sales floor, being relatable and relevant to shoppers in their experience of your brand helps encourage adding your product to cart.
First-party data, second-party data, and standardization
First-party data is also an important aspect of eCommerce data strategy for Alex. However, he notes, it is hard for brands to achieve scale with first-party data, which opens the door to retailers who are providing access to their second-party data. For him, Tesco, Sainsbury's, ASDA, and Morrison's are the big four to keep an eye on when it comes to retail data. What we have seen in the United States with sales data being released for attribution reporting is now happening in Europe as well.
---
---
However, Alex comments, while all data is great, there is still fragmentation. There needs to be standardization of this data and the ability to see them in a meaningful and holistic way across the shopping journey. Retail data needs to be standardized for brands to be able to act effectively on them, similar to what is available today with programmatic. This is an area to pay attention to, as retailers are doing their own homework in making this trove of information available and accessible to brands.
Share of stomach and share of time as eCommerce metrics
Social commerce has grown immensely in the past year, with shoppers engaging with brands on a variety of channels, and each of those channels engaging shoppers in different ways. Rachel notes that while Facebook and Instagram statistically drive the most shopper traffic, other channels may be better at capturing purchase intent. So what leading indicators should brands look at to keep up with the consumer? Alex says looking at where consumers are directing their time is key. For example, there is a growth in the time consumers are spending with TikTok. Rachel agrees, as MikMak's Shopping Index found TikTok to be a dark horse in terms of an emerging platform. Nevertheless, while it is effective in driving awareness, brands may see varying performance on conversion.
The second area Alex points to is "share of stomach". While Kraft once had a one-size-fits-all metric, the consumer base is diverging. Now, the metric of success is the "share of stomach" that Kraft is reaching with its consumers. So when it comes to growing and protecting market share, it's most helpful to think about what percent of food and beverage consumed belongs to the brand, making it a far more meaningful way to understand market share that doesn't fall within more traditional swimlanes.
Prioritize understanding your consumer's shopping journey
As shopping habits evolve over time, understanding and reaching your consumers are the most important things for staying relevant. Look at where your shoppers direct their time, how much time they spend on social media, what their work day looks like, or whether or not they use TikTok to help your brand gain a deeper understanding of the person behind the purchase. Being available to a consumer is one thing, but knowing and catering to that consumer can set brands apart. Being aware of who your customers are and what they are buying can inform what channels to amplify, what products to advertise, and how to get shoppers to prefer your product over the competition.
To employ the best practices in your marketing and data analysis strategies, track your customer's shopping journey with accurate and up-to-date analytics. Schedule a demo today.