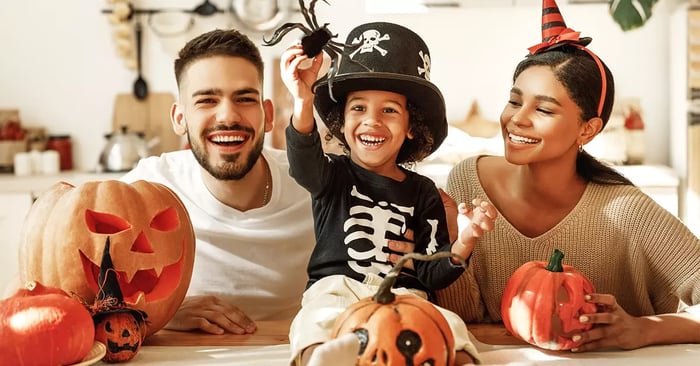 Halloween is a busy and exciting time for candy brands, but don't get spooked! MikMak is here with everything your brand needs to know to make this October a scary success.
Between trick-or-treating, Halloween parties, and scary movie nights, October is a popular time for shoppers to stock up on sweet treats. Last year, the NRF projected an estimated $3 billion spent on candy alone, significantly more than any year prior. While the NRF's projections for 2022 are not yet published, we assume this year's spooky season will be another one for the books. MikMak took a closer look at candy shopping habits to help your brand prepare for Halloween 2022.
Leverage social media platforms like YouTube to reach candy shoppers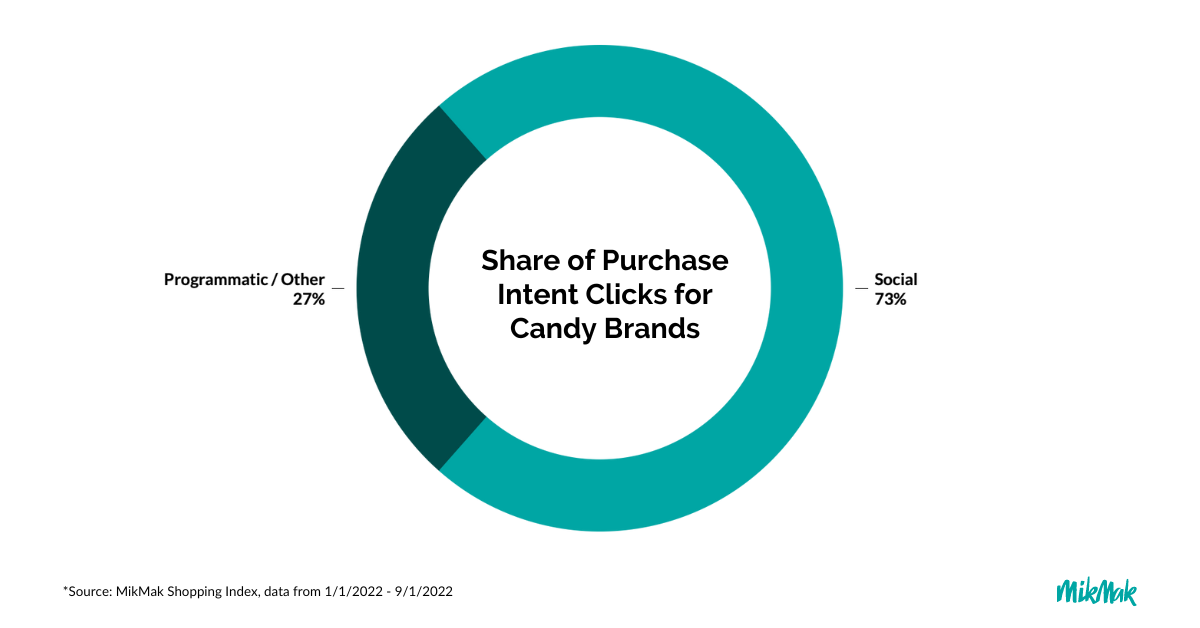 This year, the MikMak Shopping Index has seen most of its in-market traffic for candy brands come from social advertising. With 73 percent of purchase intent clicks, utilizing social commerce is the recipe for success for candy brands this year. However, programmatic and other non-social media advertising still drove 27 percent of the purchase intent clicks, so it's essential to consider both when allocating media spending this October.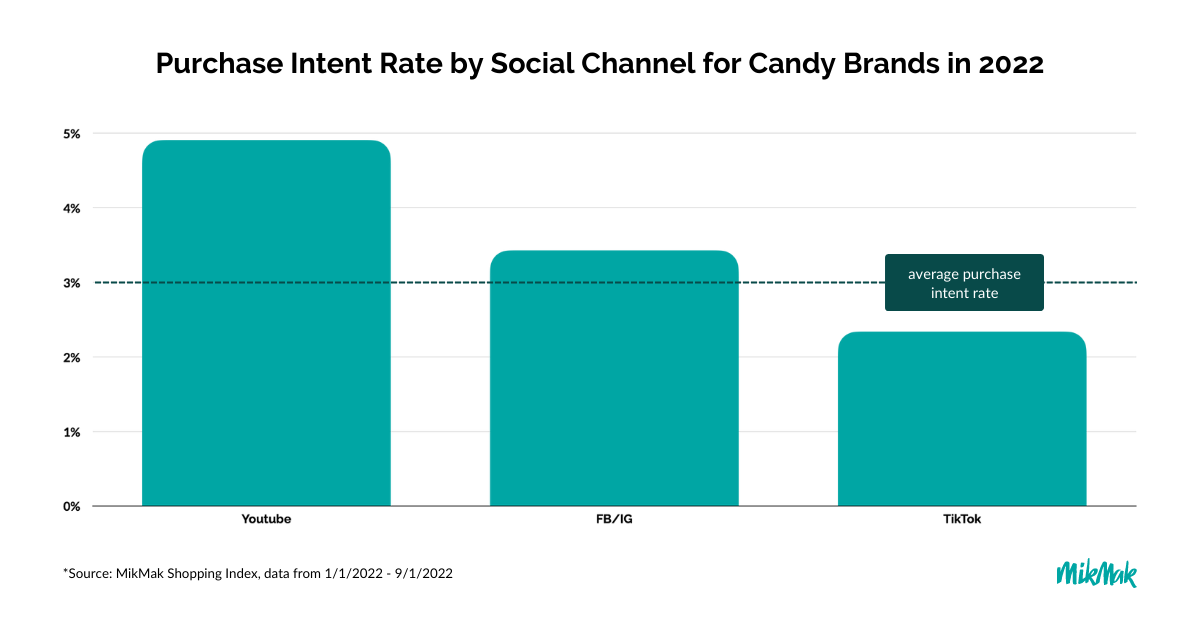 When it comes to the specifics of social commerce for candy brands, YouTube is currently driving the highest purchase intent rates, at 4.9 percent (1.6 x the category average). This means that shoppers discovering candy products and seeing ads on YouTube are most likely to make a purchase.
As a best practice, including YouTube in your social commerce strategy might help drive sales this Halloween season. YouTube is an excellent platform for longer-form advertising content to inspire brand awareness. To get the most out of YouTube advertising, implement attention-grabbing video content that clearly displays your product and branding to make customers fully aware of what they should buy. YouTube is also a great platform for influencer marketing to convince shoppers to try new products.
Besides YouTube, the social channel with the second highest purchase intent rate for candy brands is Facebook/Instagram, with 3.4 percent (1.1 x the category average). TikTok, as an emerging player in social commerce, had purchase intent rates just under the average at 2.3 percent.
Utilizing display ads with strong copy and eye-catching images of your product can also gain your shoppers' attention this Halloween season. When consumers are shopping for their candy stash for trick-or-treaters, stick out with something memorable and season-specific that will make them crave your brand above the competition.
Walmart is the most popular retailer for candy shoppers in 2022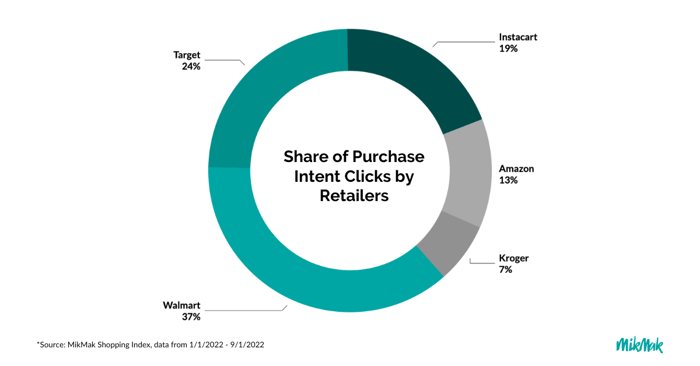 This year, Walmart has been the preferred retailer for grocery shoppers. When it comes to candy shoppers, we see the same. Walmart had the most in-market shoppers for candy brands, with 36.9 percent of purchase intent clicks. Across major retailers, Walmart also saw the highest purchase intent rate among any other shopping destination for candy brands. Target drove the second highest share of purchase intent clicks, with 24.3 percent. Instacart came in third with 19.4 percent.
---
---
The MikMak Shopping Index also showed that Amazon held 12.5 percent of purchase intent clicks, and Kroger was 6.9 percent. In addition, data from our 2022 holiday guide revealed that drug stores were also exceedingly popular with shoppers across categories this year, so it may not be a bad idea to include stores like Walgreens and CVS in your brand's retailer mix, too.
In the US, online candy shopping is most popular in the South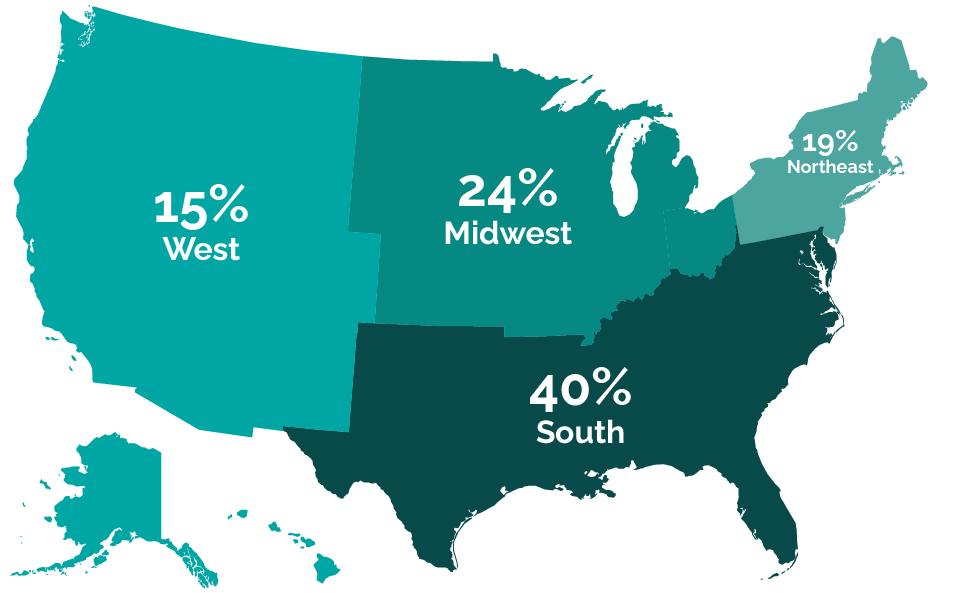 Geographically, the MikMak Shopping Index shows that the Southern US is the most popular region for residents to discover candy items online. At more than 40 percent, there are nearly double the purchase intent clicks from this area than any other region. The Midwestern US came next with 24 percent of purchase intent clicks. Meanwhile, the Northeastern US and Western US states showed 19 percent and 15 percent of purchase intent clicks, respectively. Keep this in mind when planning where to stock your products as the Halloween season approaches, as consumers are looking for their favorite brands to be available nearby.
Make content shoppable to make the consumer experience seamless and easy
Halloween is not just a time for passing out candy. Many people are also throwing parties, special events, or even just spending time doing fun activities with their loved ones. Consider this when developing your content around this season. Using recipes, activity ideas, or Halloween-themed shopping lists can be one way your brand can stand out to shoppers as they plan their festivities.
Cereal brand, Kellogg's Rice Krispies, recently put this in action by using a recipe on their website and making it shoppable by linking a MikMak Experience. Making content shoppable, like Rice Krispies, allows consumers to go from reading content to buying products instantly.

Learn how you can drive shoppers to your brand this Halloween, and gather actionable data and insights to use as an indicator for the holiday season, next year, and beyond. Schedule a demo today!