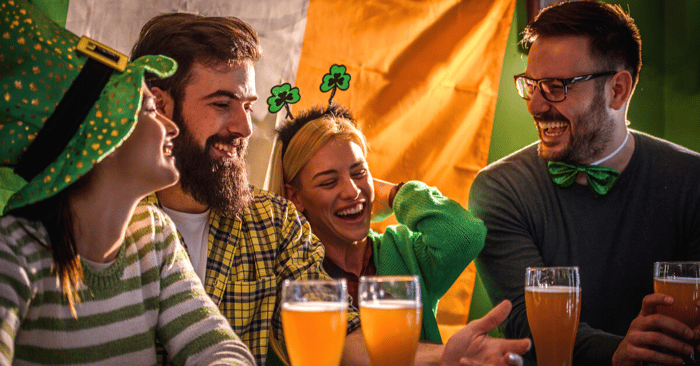 More than 61 percent of Americans plan to celebrate St. Patrick's Day this year, and of those celebrating, 41 percent already plan to celebrate with a beverage.
At MikMak, we have already seen high Purchase Intent Rates from Alcohol shoppers this year. Alcohol brands should closely examine how consumers are shopping to reach them effectively before the St. Patrick's Day festivities begin.
Instagram x Drizly is your channel x retailer mix for St. Patrick's Day 2023
Between February 13th and March 6th, Purchase Intent Rates have been at an average of 9.3 percent, just slightly above the average of 9.1 percent since the first of the year. Purchase Intent Rate measures the rate of shoppers who clicked through to at least one retailer.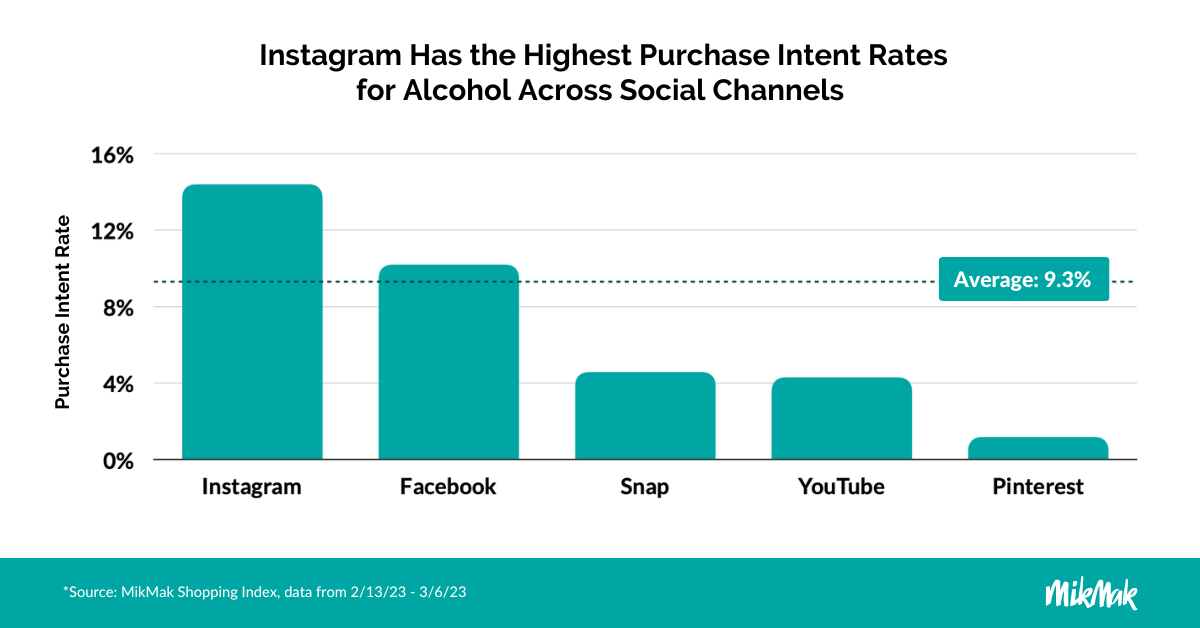 When looking at social commerce performance over the last three weeks, we see that Alcohol brands advertising on Instagram have the highest Purchase Intent Rates at 14.4 percent (1.5 x the current average). Following Instagram is Facebook with 10.2 percent (1.1x the current average). Snap, YouTube, and Pinterest all have lower-than-average Purchase Intent Rates right now, at 4.6 percent, 4.3 percent, and 1.2 percent, respectively.
Among the top five Alcohol retailers, Drizly emerges as the leader with a 42.9 percent Share of Purchase Intent Clicks (the number of times shoppers have clicked through to at least one retailer). Following closely behind is Instacart, with 22.6 percent, suggesting that speedy delivery options are especially popular among alcohol shoppers. The remaining three retailers in the top five are Walmart, Total Wine, and Kroger. Walmart and Total Wine yield 17.4 percent and 13 percent of Purchase Intent Clicks, respectively, while Kroger trails with 4.2 percent.
Being available at these retailers in time for St. Patrick's Day, and placing focus on delivery options can help your brand with shoppers celebrating the occasion.
---
---
Among US States, Pennsylvania has the highest Purchase Intent Rates for Alcohol right now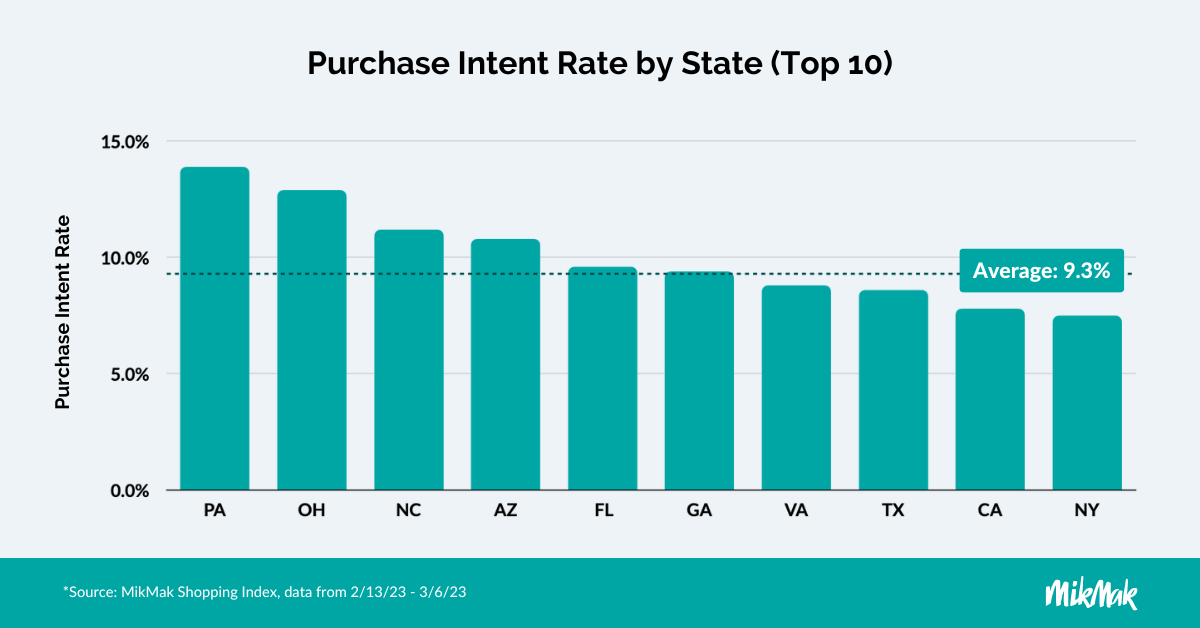 Compared to the rest of the US, Pennsylvania is currently leading the pack with the highest Purchase Intent Rates for Alcohol, at 13.9 percent (1.5 x the current average).
Other states in the top ten include Ohio, with a Purchase Intent Rate of 12.9 percent, followed by North Carolina at 11.2 percent and Arizona at 10.8 percent. Florida and Georgia also have higher-than-average Purchase Intent Rates at 9.6 percent and 9.4 percent, respectively. Meanwhile, Virginia, Texas, California, and New York have Purchase Intent Rates ranging from 7.5 percent to 8.8 percent.
Whiskey is the most popular spirit right now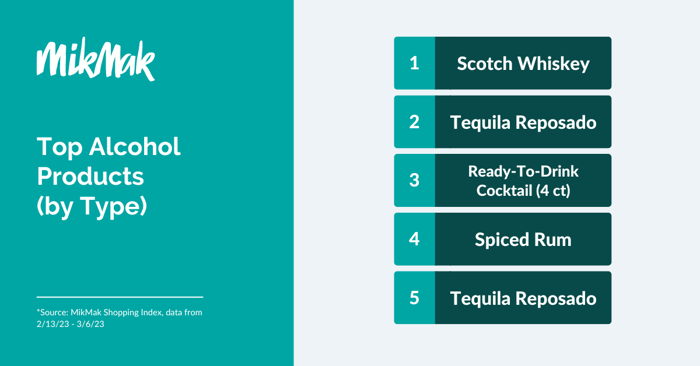 Basket-level data shows Whiskey brands have been the most sought-after over the past three weeks. With Irish Whiskey being a traditional St. Patrick's Day spirit, it might be safe to assume that Whiskey's popularity will carry through to the holiday. Other items on the list include Tequila Reposado brands (in the second and fifth spot), Ready-To-Drink Cocktails, and Spiced Rum.
Enable Shoppable Media to meet consumers where they are as they shop for St. Patrick's Day
With any momentous shopping occasion, including St. Patrick's Day, it's important that consumers can buy seamlessly. Enabling shoppable media with a partner like MikMak allows consumers to purchase your product with ease, from any retailer they choose.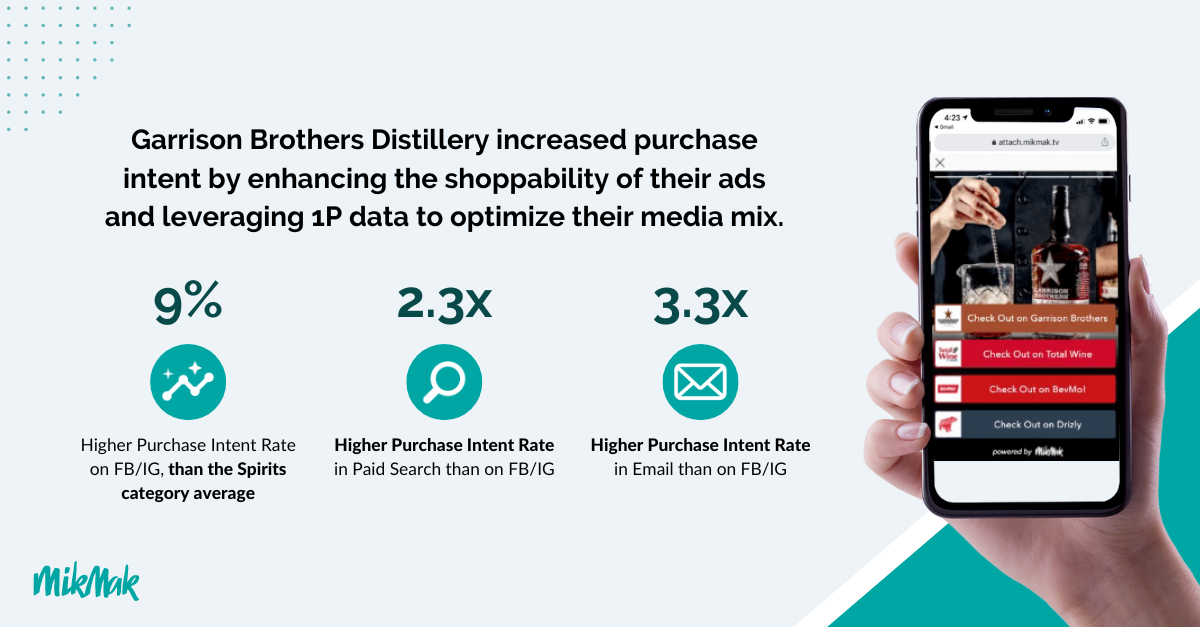 Take Garrison Brothers Distillery, for example, who created a series of 30-second shoppable videos that showcased their products and brand story. Using MikMak, they enabled viewers to purchase products directly from the videos, increasing the chances of a successful sale. With this initiative, the brand saw 9 percent higher Purchase Intent Rates than the category average.
MikMak can also be used by Alcohol brands to enable multi-retailer checkout options on their brand websites, and even display shopping locations that meet consumer demand locally, in-store, and at bars and restaurants. Want to learn more? Schedule a demo today.