Second only to the winter holiday season, back-to-school shopping is one of the biggest retail occasions of the year. With 40 percent of back-to-school shoppers starting their purchases in July, shoppers are already on the lookout for deals. Here's a quick look at what back-to-school shopping will be like this year.
Major retailers are popular shopping destinations, especially Walmart
Walmart is the top retailer for back-to-school shopping in 2022. In fact, 37 percent of parents have already started back-to-school shopping from Walmart this year, and 51 percent plan to later this season. MikMak Shopping Index data finds that from the 2021 season, Walmart is a leading retailer for back-to-school brands, driving 31.3 percent of purchase intent clicks (that's over a third of all eCommerce traffic!) to position itself as a lead retailer, Walmart has combined a premium shopping experience with deep discounts, highlighting a selection of items priced at $1 or less for back-to-school shoppers while promoting its AR "View in Your Space" tool to help college students see how furniture will look or fit in their dorms.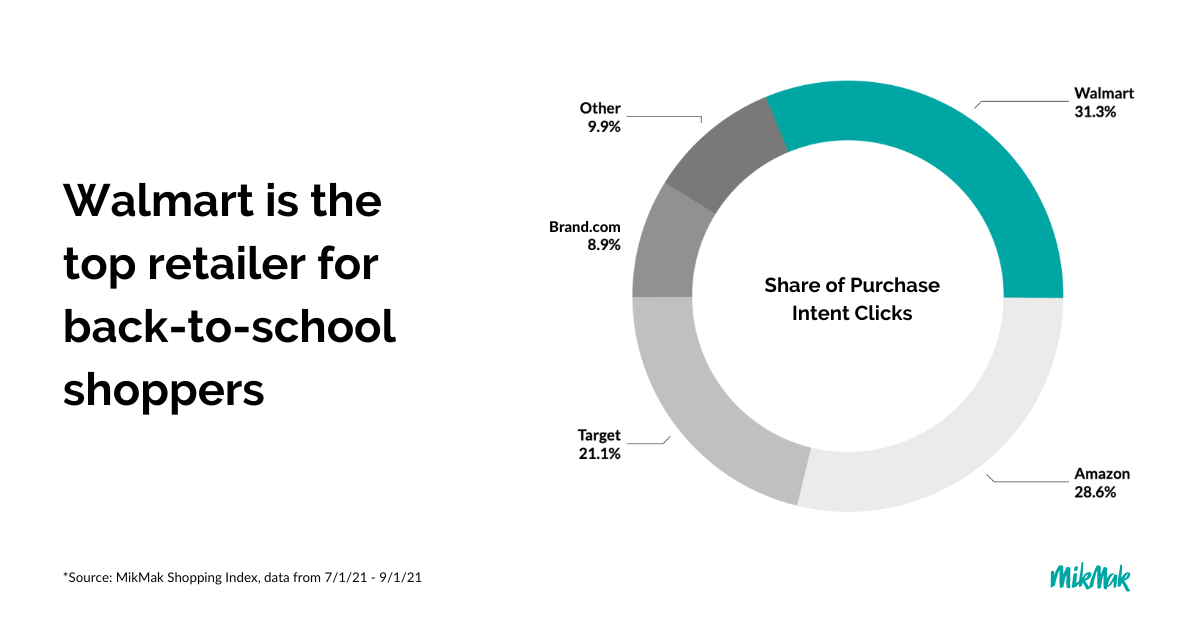 Amazon and Target follow closely behind. This year, 26 percent of parents have already made a purchase on Amazon for back-to-school items, and 53 percent plan to. In fact, Amazon drove 28.6 percent of purchase intent clicks for back-to-school brands during the 2021 season in the MikMak Platform. Target, meanwhile, saw 21.1 percent of eCommerce traffic. This year, they're extending the shopping season through their Teacher Prep Event, offering a discount on school supplies for six weeks longer than it ran last year.
What to do: Make sure you're driving traffic to these retailers and time your inventory with their discount days and promotions.
Back-to-school shoppers are more price sensitive
84 percent of shoppers expect higher prices this year. Adapting to rising costs, consumers are on the lookout for the best deals as they shop for their back-to-school essentials. The NRF found that 43 percent of back-to-school shoppers and 37 percent of back-to-college shoppers plan to do comparative shopping online. These numbers show shoppers are not sticking to one retailer, and instead looking all over for the lowest price. Additionally, 64 percent of back-to-school and back-to-college shoppers said they were planning their shopping around retailer sale events.
---
---
Brands can stand out to the sales-motivated shopper by having strong relationships with retailers and strategizing based on retailer promotions. For example, executing a retailer-specific linking strategy around deal days could help your brand catch consumers' attention as they hunt for the hottest items on sale.
What to do: Consider using sale-specific messaging and informing your shoppers about price changes to help them pick your product over a competitor.
Bigger baskets with home care, beauty, and electronics
Back-to-school items come from many categories, with home care, beauty, and electronics being top products to be purchased. This year, categories are crossing swim lanes and their traditional shopping occasions. Additionally, shoppers are purchasing with larger basket sizes and fewer shopping trips due to rising fuel prices. To help optimize the shopping experience, it's important for brands to know what baskets and product mixes they will be part of this year.
During last week's Amazon Prime Day and other retailer driven shopping occasions, home care saw purchase intent rates reaching 4 x the category benchmark of 4.9 percent. Since many college students equipping their dorms and apartments with all the essentials during this time, home care brands can find a major opportunity to win as back-to-school shopping continues.
Beauty brands saw purchase intent rates 1.5 x the category benchmark of 12.5 percent during Prime Day. Items like mascara, concealer, and hair care topped the most popular buys. It is possible that some shoppers are stocking up to look their best for heading back to the classroom.
Home and consumer electronics are also part of this mix. According to the MikMak Shopping Index, coffee makers and tablets were among the top performing products for last year's back-to-school season.
What to do: This year, consider how your brand can fit within the back-to-school category. For example, show the product being used on student as they get ready for class.
Keeping a pulse on shopping behaviors during the back-to-school shopping season can help your brand succeed. Is your brand looking to uncover powerful insights that will make your brand's back-to-school strategy a success? Schedule a demo with MikMak today.