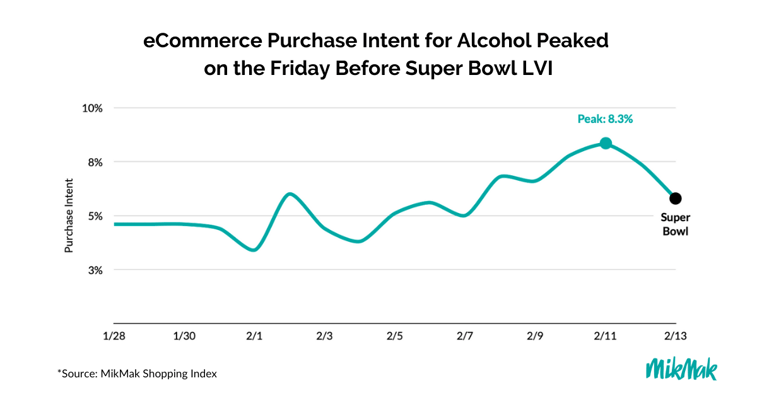 With a riveting football game, lively halftime shows, and fun commercials, the Super Bowl is a great reason to celebrate every year. In fact, in the US, Super Bowl Sunday is second only to New Year's Eve in terms of beer consumption. This year was no exception as the Los Angeles Rams played the Cincinnati Bengals for Super Bowl LVI.
While the game itself was plenty exciting, let's take a closer look at what was going on with alcohol eCommerce leading up to the Super Bowl, and what that means for brands for the rest of the year.
A single but longer lasting surge of demand
Last year, MikMak's Shopping Index showed Tuesday as a peak day for in-market alcohol shoppers. This year, there was a steady average increase of 23 percent per day in shopping traffic two weeks before the Super Bowl., but the major demand peak happened the Friday before game day. We saw purchase intent as high as 8.3 percent, nearly double what it was the week before, and higher than the six month average of 7.1 percent.
This single peak on Friday is likely attributed to the comparatively laxer social distancing this year compared to last year. More in person celebrations and shopping are taking place, and shoppers grabbed weekend purchases for their Sunday gatherings without planning as much in advance. A single peak is also reflective of a larger trend of shoppers consolidating their shopping trips. As more people become familiar with online shopping, they know exactly what they want and where to get it, and this year the average alcohol shopper is checking out with four items on average in the basket.
Instacart is the new category favorite for check out on MikMak
Shopper preference is always changing, and this includes where they like to check out. Last year, Drizly was the preferred retailer to check out at for alcohol shoppers on the MikMak Platform. This year, Instacart has taken its place as the champion.
Over 25 percent of shoppers chose to check out on Instacart, with Drizly coming in second at 19 percent, and ReserveBar third at 17 percent. Furthermore, local grocery stores were a popular choice with shoppers this year. Over 64 percent of shoppers preferred to check out at places like Kroger, Ralphs, and Fred Meyers. With this in mind, it becomes helpful for brands to know which retailers consumers are shopping at. Gathering first-party eCommerce data remains a key way to inform inventory strategy, and is also a great way to ensure you are incorporating the preferences of your shoppers.
---
---
Beer, spirits, and the growing love for whiskey
An ice cold beer is a game day favorite. On average, Americans consume 325.5 million gallons of beer on Super Bowl Sunday. While beer remains a fan favorite this year, spirits was the dark horse of the season, attaining an 8.6 percent in purchase intent, outperforming beer in the initial shopping days by five times.
To understand the reason for this, we have to look at the entire shopping cart for alcohol eCommerce. Most shoppers gearing up for Super Bowl LVI checked out with an average of four items in their cart. So what were those other items? Of the top ten items added to carts seven of them were alcohol. Further, three of those seven top alcohol items were whiskey brands.
Could this mean that whiskey is growing the spirit of choice? Our Shopping Index will continue to follow along and find out!
An indicator of how to strategize for the future
2022 is a truly unique year all around. With a blend of shopping habits before the pandemic, paired with familiarity around online retailers, we can expect constant shifts and changes in shopping habit. Due to this, it has become the most vital time for brands to take a close look at first-party data to inform their strategies.
Schedule a demo today to access important analytics, and track your customer's shopping journey from end to end.
Source: The MikMak Shopping Index is a collection of key eCommerce KPIs collected across hundreds of brands and over 250 channels and over 2000 retailer integrations to understand consumer online shopping behavior. With a sample size of up to 5M shoppers, MikMak's Shopping Index provides insights into current and developing industry trends, and forecasts demand and behavior in the online marketplace. The Index also includes data from MikMak Shopper Intelligence, which ties first-party eCommerce data to 1000+ of demographic and psychographic data points, and can be segmented by product, retailer, and more. Shopper Intelligence is available through an industry exclusive partnership with LiveRamp.
MikMak's Shopping Index was developed to provide a standardized set of metrics, methodology, and benchmarks to help drive brands' business results and strategy.