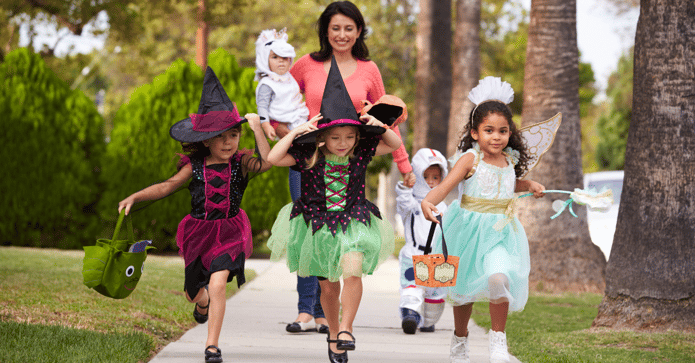 With spooky season upon us, it's time for candy brands to gear up for Halloween festivities. According to Statista, consumers spent about $3.1 Billion on Halloween candy last year. To help keep your brand from getting scared this year, MikMak looked at some of the latest insights to help consumers not get "ghosted" by consumers this October.

Purchase Intent Rates for candy brands peak two weeks before Halloween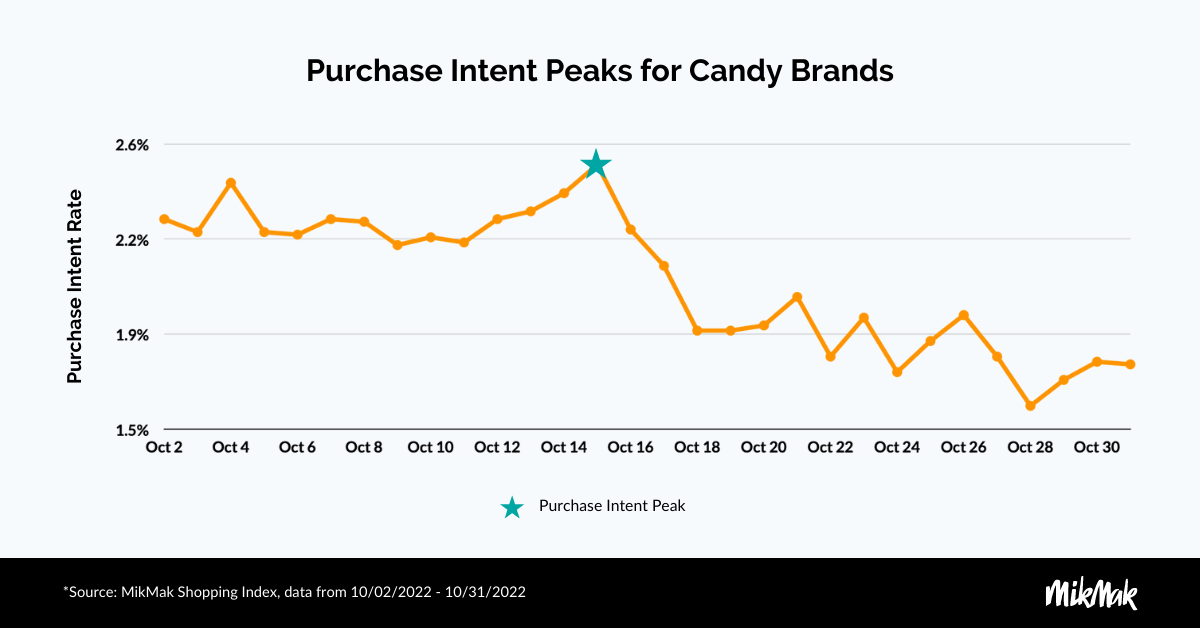 Knowing when people are most likely to buy can help your brand reach consumers at the optimal time. When looking at data from last year, the MikMak Shopping Index found that Purchase Intent Rates for candy brands peaked on October 15th at 2.5 percent (1.2x the average for this time frame). This means shoppers were most likely to continue to a retailer from media displayed two weeks ahead of Halloween.
Ensuring your brand is in stock at retailers and marketed to shoppers at this time will improve your product's chance of being the prime choice for Halloween parties and events this year.
YouTube is the top channel for candy brands this Halloween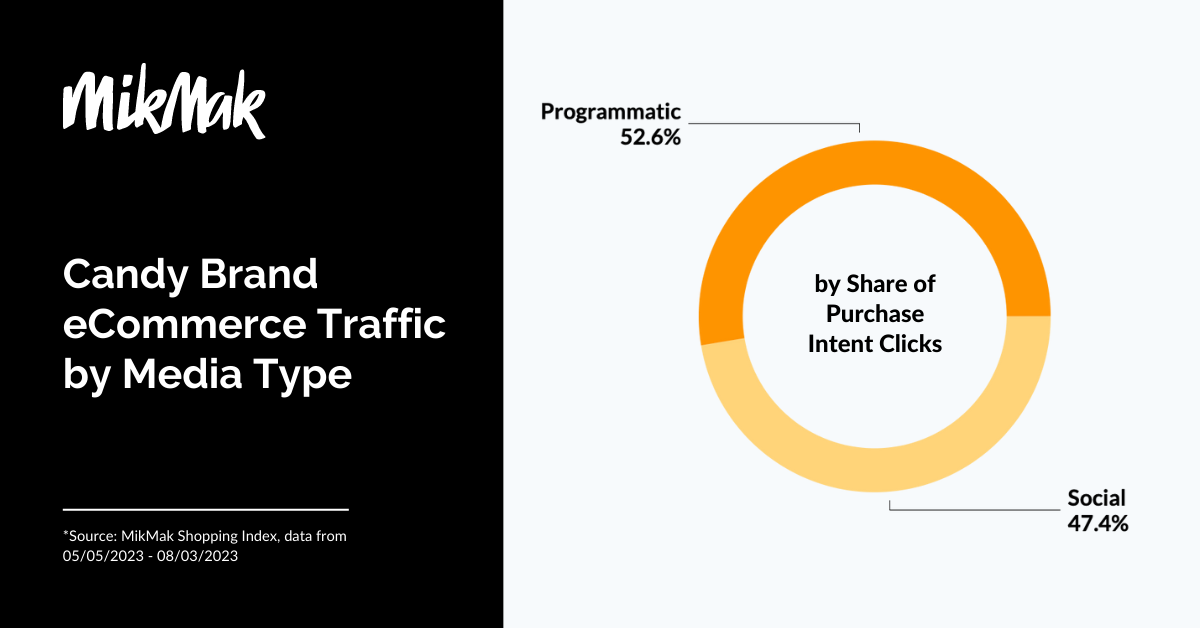 Last year, social largely dominated the candy space regarding advertising traffic ahead of Halloween. This year, the MikMak Shopping Index has seen that Programmatic advertising is emerging ahead of social with 52.6 percent of Purchase Intent Clicks, or the number of times a shopper has clicked through to at least one retailer.
Meanwhile, social commerce is still driving 47.4 percent of this traffic. It is important for brands to leverage a mix of programmatic and social advertising this October to best reach omnichannel shoppers.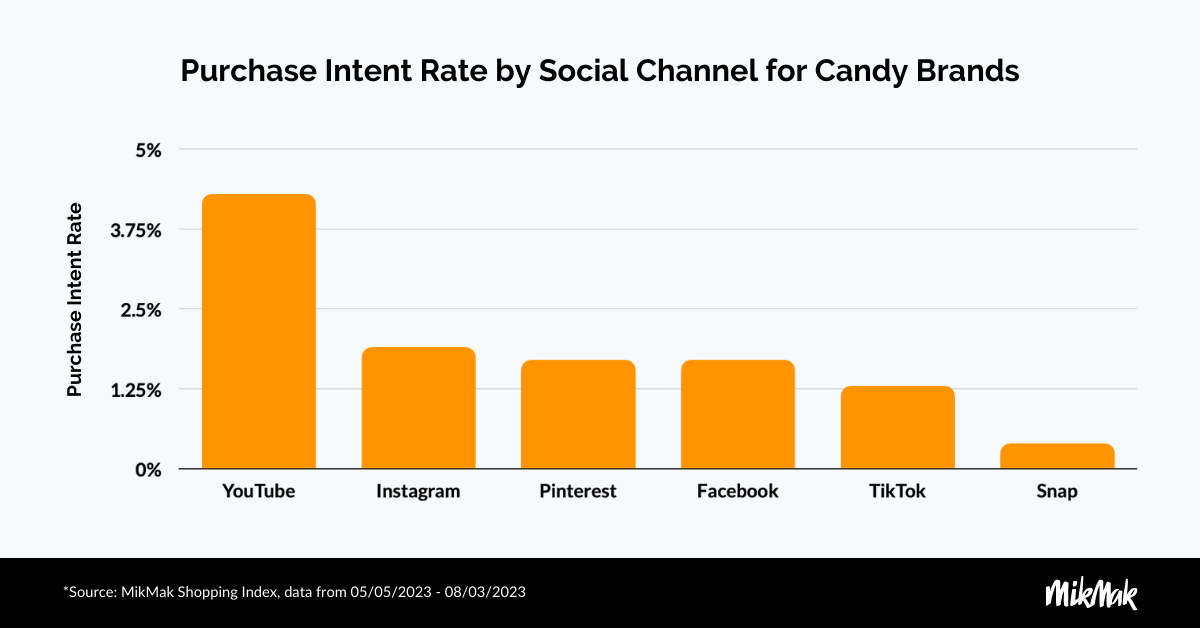 When taking a closer look at social commerce, the MikMak Shopping Index found YouTube is currently driving the highest Purchase Intent Rates, at 4.3 percent for candy brands.
As a best practice, including YouTube in your social commerce strategy might help drive sales this Halloween season. YouTube is an excellent platform for longer-form advertising content to inspire brand awareness. To get the most out of YouTube advertising, implement attention-grabbing video content that clearly displays your product and branding to make customers fully aware of what they should buy. YouTube is also an excellent platform for influencer marketing to convince shoppers to try new products.
---
---
Following YouTube is Instagram at 1.9 percent. In third is Pinterest and Facebook, both driving Purchase Intent Rates at 1.7 percent. TikTok follows with 1.3 percent, and Snap with 0.4 percent.
Display ads with strong copy and eye-catching images of your product can also gain your shoppers' attention this Halloween season. When consumers are shopping for their candy stash for trick-or-treaters, stick out with something memorable and season-specific that will make them crave your brand above the competition.
Households without children are important to target, too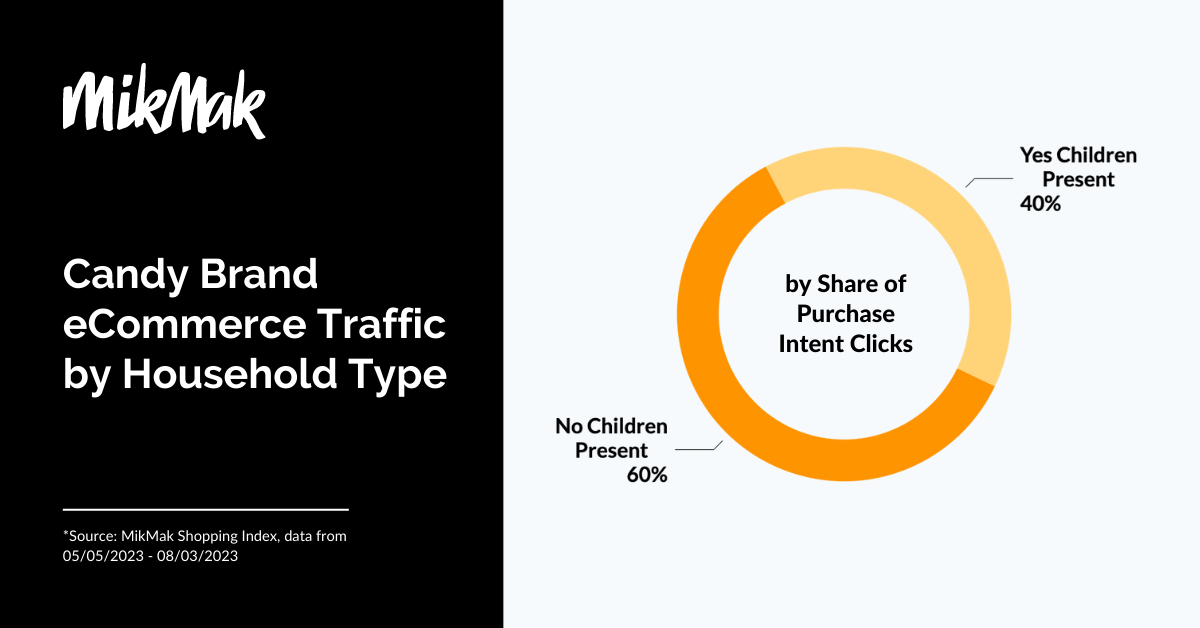 With trick-or-treating being a common tradition of Halloween, it might be assumed that targeting marketing toward households with children is an obvious tactic. However, first-party data from the MikMak Shopping Index revealed that 60 percent of Purchase Intent Clicks for candy brands actually come from households without children.
When targeting your ads, do not count out those without children as they may be a prime opportunity for your candy brand to gain market share this Halloween season.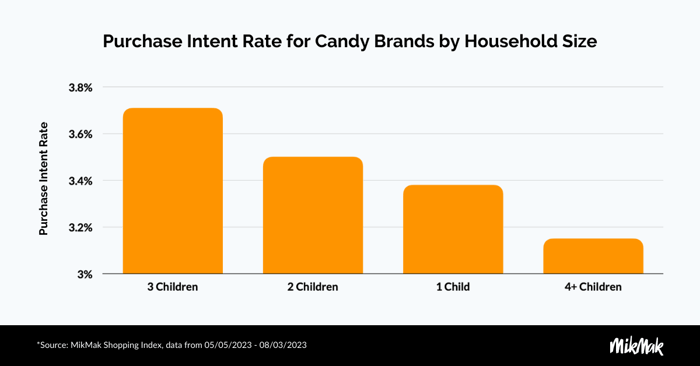 However, when looking at household size, the MikMak Shopping Index reveals that households with three children have the highest Purchase Intent Rates at 3.7 percent.
Enable shoppable media and use first-party data to gain market share and prepare for the upcoming Halloween season
Halloween is not just a time for passing out candy. Many people also throw parties, special events, or even just spend time doing fun activities with their loved ones. Consider this when developing your seasonal content. Using recipes, activity ideas, or Halloween-themed shopping lists can be one way your brand can stand out to shoppers as they plan their festivities.
Cereal brand, Kellogg's Rice Krispies, recently put this in action by using a recipe on their website and making it shoppable by linking a MikMak Experience. Making content shoppable, like Rice Krispies, allows consumers to go from reading content to buying products instantly.

Beyond enabling shoppability, the brand can collect first-party data from these consumers to better understand their shoppers. Data like this can inform marketing strategies for future Halloweens, and the upcoming winter holiday season.
To learn more about how your brand can win this Halloween, schedule time to meet with us at Groceryshop taking place Sept 19 - 21 in Las Vegas, or book a demo here.
---
---