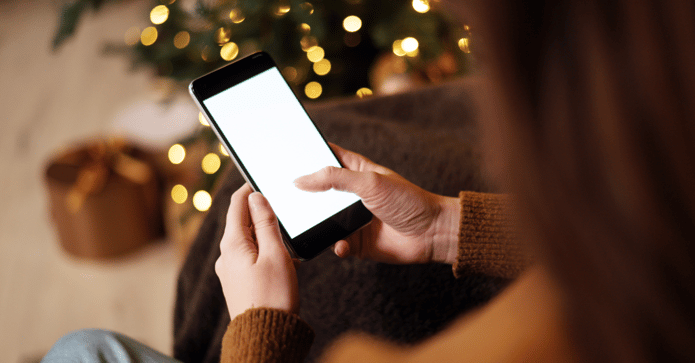 Time flies! It's Summer now but the holiday season will be upon us sooner than we think. For Beauty brands, the end-of-year festive season is a crucial peak for eCommerce.
To get ready to rock this year's holiday season eCommerce, let's take a look at the European trends from last year and the winning techniques to stand out from the competition.


A Deep Dive into Beauty trends during the 2022 Holiday Season
In 2022, as the holiday season swept through France, makeup stole the spotlight, becoming an essential beauty product for nearly 80 percent of female consumers. Fragrances followed closely, embraced by 64 percent, while skincare products found favor among 55 percent of shoppers. The UK witnessed a remarkable 46 percent spike in high-end beauty sales just before Christmas, underscoring the heightened desire for premium beauty products during the festive period. Many beauty brands seized this excitement, introducing limited-edition products tailored for Christmas, resulting in increased sales and a surge of excitement among customers.
As recently revealed in our webinar with Salsify, a significant 60 percent of buyers kicked off their holiday purchases even before November.. Notably, influencers played a pivotal role in guiding purchase decisions, with a substantial 67 percent of beauty buyers seeking product information from them. This trend reflected the growing influence of digital voices in the beauty landscape.
Beauty has emerged today as the third most popular eCommerce category in Europe, capturing the attention of 17 percent of shoppers. According to MikMak Shopping Index, during the last months of the year, supermarkets and specialized beauty retailers took the lead in Beauty eCommerce for holiday shopping.


Unveiling the Crucial Role of Year-End eCommerce in the Beauty Market
In the ever-evolving beauty landscape of Europe, consumer preferences for beauty purchases vary across different countries and months, as pointed out in MikMak's Beauty & Personal Care Benchmarks and Insights guide.
When looking at the five key markets (UK, France, Germany, Spain and Italy), what's common is that holiday shopping starts early, driven also by Black Friday and Cyber Monday operations, when consumers are on the lookout for promotions. These are extremely important times in the beauty sector.
We can see that in several countries, purchase intention starts to pick up from October and then intensifies in November to peak in December.
When looking more closely the period from mid-October to end of December 2022, our data points out the following periods as Top weeks for Beauty eCommerce: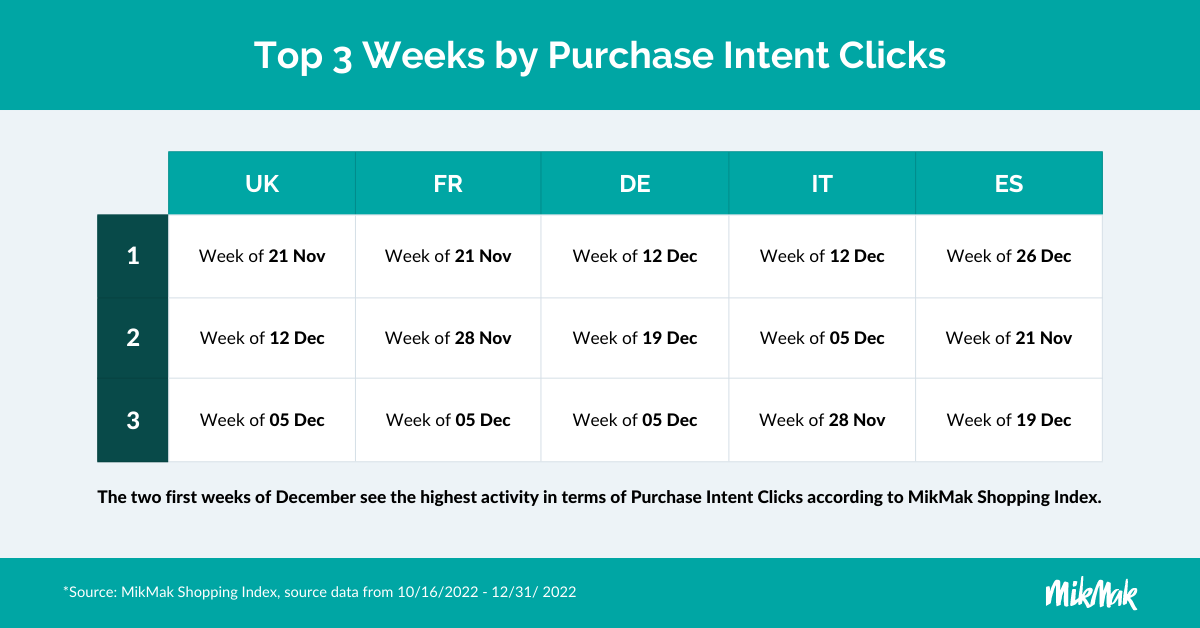 Retailer preferences and Popular Beauty products for the Holidays Season
During the period from mid-October to the end of December 2022, a diverse range of top retailers dominated the European beauty landscape based on Purchase Intent Clicks. In the United Kingdom, Boots emerged as the front-runner, while Amazon secured the top spot in France. Douglas took the lead in Italy and Germany, respectively, while El Corté Inglés led in Spain. Following closely behind were prominent retailers like John Lewis, Nocibé, Flaconi, Sephora, and Druni, each catering to the unique preferences of their respective markets.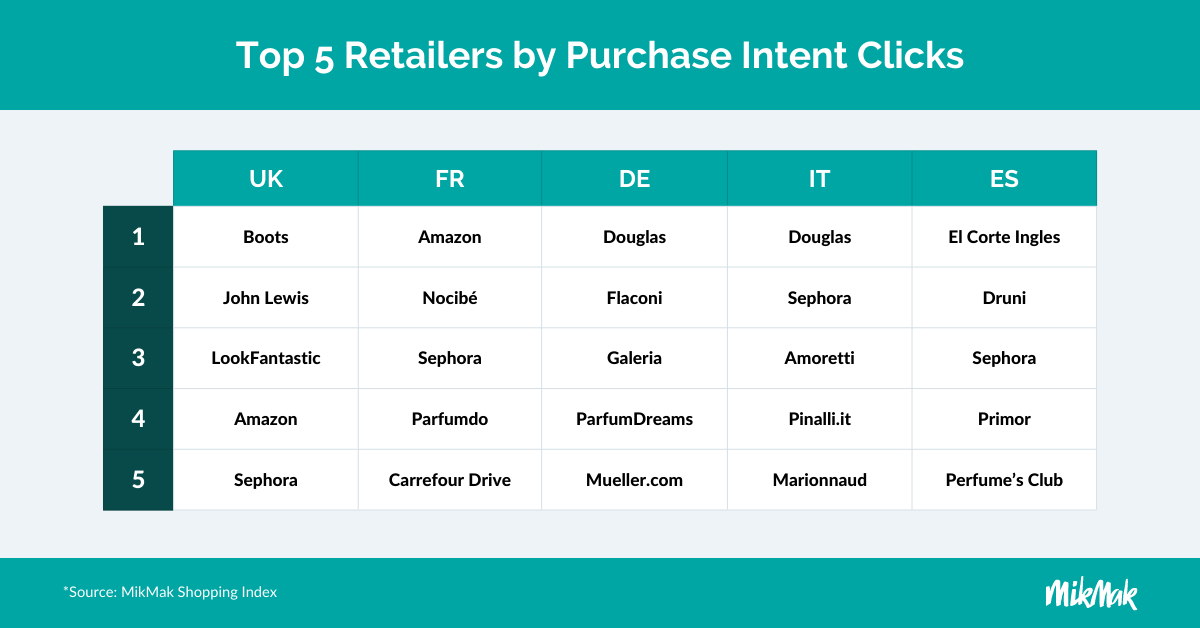 Furthermore, as consumers sought to enhance their holiday look and indulge in self-care during this festive season, specific beauty products garnered significant attention across Europe.
Fragrances, lipstick, and facial creams topped the list, captivating beauty enthusiasts with their allure. Beauty Advent Calendars, an exciting seasonal offering, also ranked high, creating a sense of anticipation and delight among consumers. Mascara, serum, under-eye concealer, setting powder, foundation, and BB cream rounded out the top 10 products, reflecting the importance of a flawless makeup routine and skincare regimen during this joyful period. As shoppers flocked to these coveted items, the beauty industry experienced a dynamic and engaging season of beauty exploration and self-expression.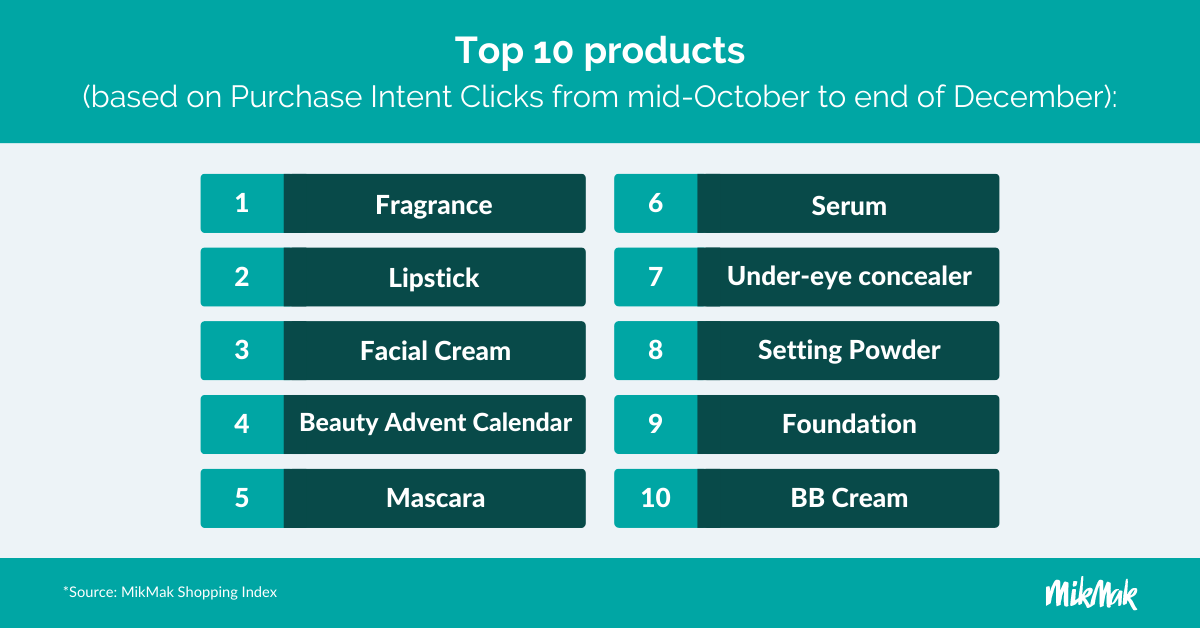 Strategies for optimizing Beauty marketing during the End of the Year Season:
MikMak provides brands with solutions and strategies, enhancing the performance and profitability of their marketing campaigns across various media platforms for the peak season marketing. Check out some of our top creative best practice tips below for an engaging eCommerce strategy:
Use bold, eye-catching creatives, showcasing both the product and its value right away
Align content with Holiday Season and call out new products or limited editions
Use a clear call to action
Make products discoverable on all channels using consistent messaging and quality product content

Use sales promotions

to trigger and accelerate the passage to purchase
Don't be afraid to try out different formats (Livestreaming, QR codes, OTT advertising…)
Enable shoppable options on your brand website to promote brand awareness and offer additional checkout and fulfillment options for shoppers
For inspiration, here are some successful examples of OPI in Spain and Paco Rabanne in Italy promoting their products for Christmas: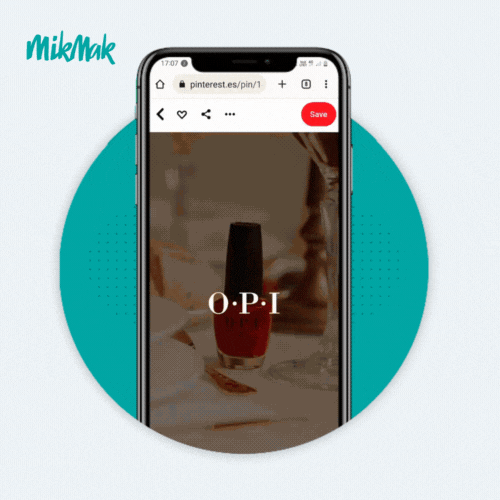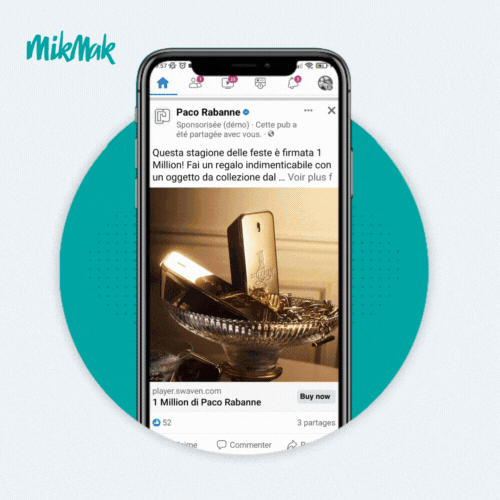 For more holiday season eCommerce trends and detailed tips to prepare this year's campaigns, watch the replay of our webinar "Cracking the Code to Holiday eCommerce Success: Insights from the Beauty Sector" in English or in French: