MikMak Sales Insights
​​See the full customer journey and drive business growth by connecting your upper funnel metrics to end sale at major eRetailers
Gain visibility into what drives conversions

Understand how your marketing impacts shopper behavior and sales by audience, channel, retailer, and more.

Maximize marketing effectiveness and drive sales

Leverage transactional data and insights from active and past marketing initiatives to improve your media planning.

Optimize targeting for your marketing initiatives

Build more accurate personas of shoppers using full item-level basket data at select retailers.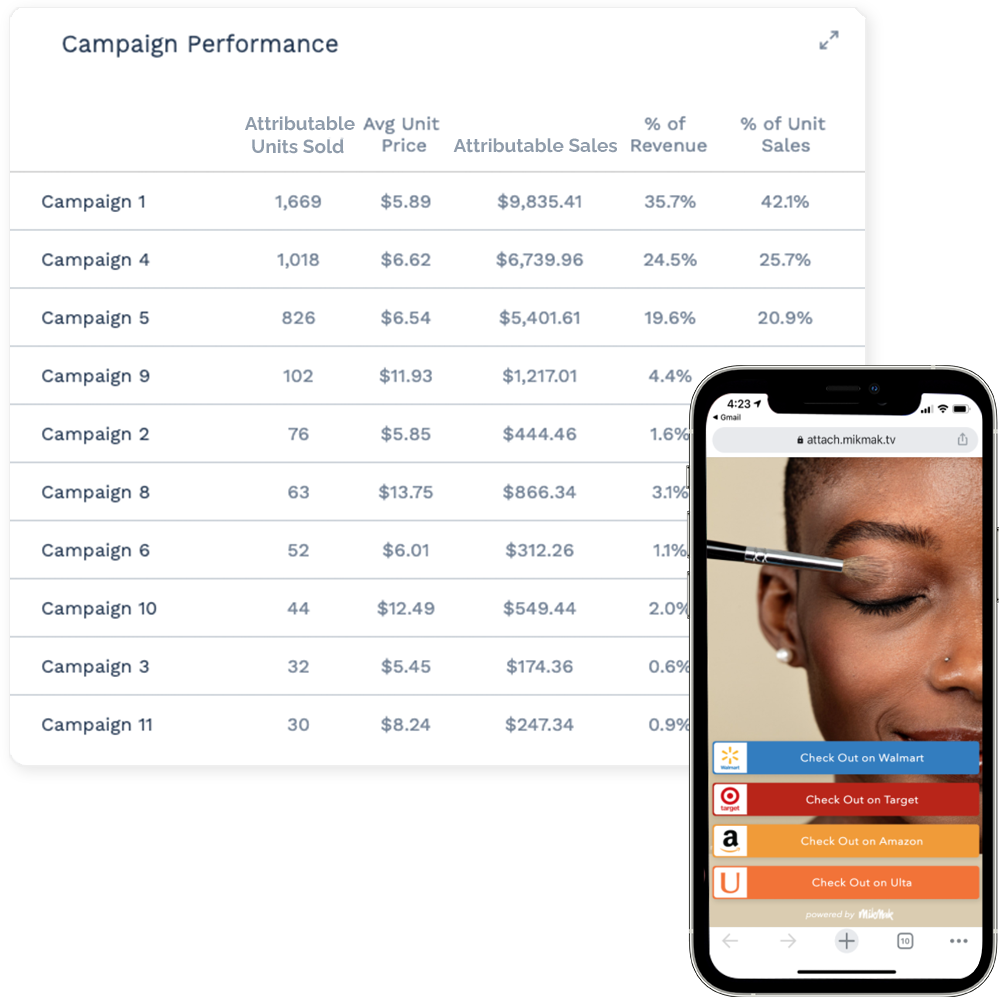 "We are doubling down on MikMak because we have such good benchmark performance that we want to make sure we lean into the technology. If someone gave me $100 million dollars, I'd invest in MikMak."
Beauty eCommerce Acceleration
Clairol drove a major lift in sales at Target by leveraging MikMak Sales Insights to inform creative, messaging, and landing page optimizations
Challenge
Without MikMak, Clairol had no way to execute their messaging or measurement objectives. In partnership with their MikMak Customer Success Manager, they devised a testing plan to determine the best way to optimize the creative experience and drive conversion.



Solution
During the first campaign, Clairol saw the promotional banner drive a lift in shoppers adding to cart at Target. With this insight, they decided to test moving the promo banner into the core creative and running the campaign with Target as the only retailer checkout option during the second promotional period, which resulted in significant lifts in Sales and Add to Cart Rate at Target.
2.4x
Lift in Sales after testing and implementing creative changes
16x
Increase in Purchase Intent Rate after implementing creative changes
66%
Of Purchase Intent from MikMak-Powered Audiences
The world's leading Beauty brands choose MikMak