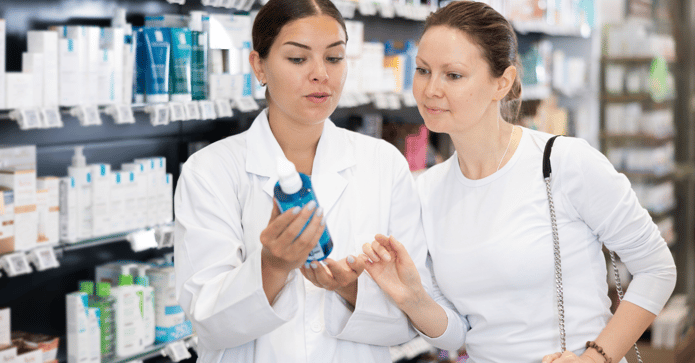 In France, Parapharmacy products, encompassing non-prescription Health Care and Beauty items, have gained significant popularity. The convenience and accessibility of online shopping have made it increasingly common for consumers to purchase these products from eCommerce platforms.
French consumers can easily browse a wide range of trusted Parapharmacy brands, compare prices, and read customer reviews online. Let's take a closer look at the growing online Parapharmacy, or "eParapharmacy" market in France.
eParapharmacy is growing by 15 percent annually
The French Parapharmacy market comprises of more than 3,600 Parapharmacies and boasts a substantial market value of over €4 billion, with a consistent annual growth rate of 5 percent.
Notably, the regulatory landscape surrounding Parapharmacy products has been evolving, making them increasingly accessible through online channels. Today, the eParapharmacy market is witnessing a remarkable 15 percent annual growth rate.
Although online sales currently represent just under 2 percent of total pharmacy sales, their ascendant trajectory in this domain is noteworthy. This digital transformation has ushered in a new era of competition, with Parapharmacies, mass retailers, and eCommerce giants like Amazon vying for market share.
Unveiling eParapharmacy shopping trends
Measuring consumer preferences and engagement by specific product category is essential because the busiest eCommerce periods for different types of products are likely not the same! Using shopper insights to match marketing strategies to align with peak periods of consumer engagement helps Parapharmacy brands increase their digital performances and reduce marketing costs.
Mondays are the most popular time to shop

When comparing the weekdays, Mondays showcase the biggest share (15.3 percent) of Purchase Intent Clicks. Tuesdays (14.8 percent), and Wednesdays (14.7 percent) stand out as the next best shopping days.
Furthermore, when we zoom out to view the bigger picture, August (9.1 percent), March (9 percent), and May (8.9 percent) emerge as peak purchasing months.
Amazon, Nocibé and Cocooncenter are emerging as top eParapharmacy retailers
Several mass merchants and specialized retailers have emerged as key players for Parapharmacy products eCommerce in France.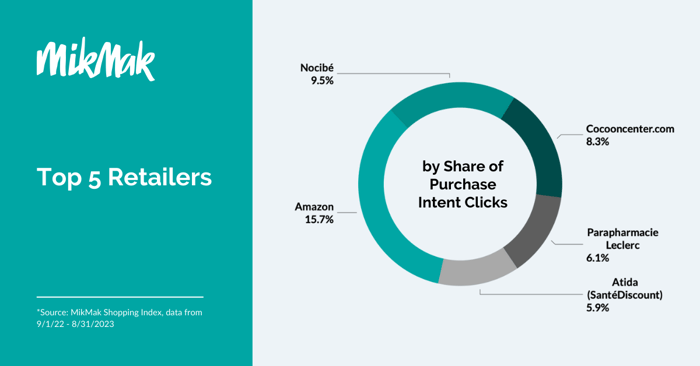 According to the MikMak Shopping Index, Amazon is leading the pack with a significant 15.7 percent share of Purchase Intent Clicks. Specialized Beauty and Personal Care retailer Nocibé comes second, with a noteworthy 9.5 percent share.
Among the Top 5 retailers, we also see Health Care and Beauty retailer Cocooncenter (8.3 percent), Parapharmacie Leclerc (6.1 percent), which is part of E.Leclerc, one of the biggest hypermarket chains in France, and Atida (5.9 percent), one of the largest pan-European online health and wellbeing groups.
Body balms, dietary supplements and body creams are driving eParapharmacy shopping
Topping the list of popular items, based on Purchase Intent Clicks, are body balms, dietary supplements, and body creams. Other dermocosmetics favorites include sunscreen, micellar water, and shower gel, showcasing the importance of skincare and hygiene. Cleansing gel, face oil, and body milk also hold their ground as sought-after Personal Care essentials, while face lotion rounds out the Top 10 products driving in-market traffic to eParapharmacy retailers.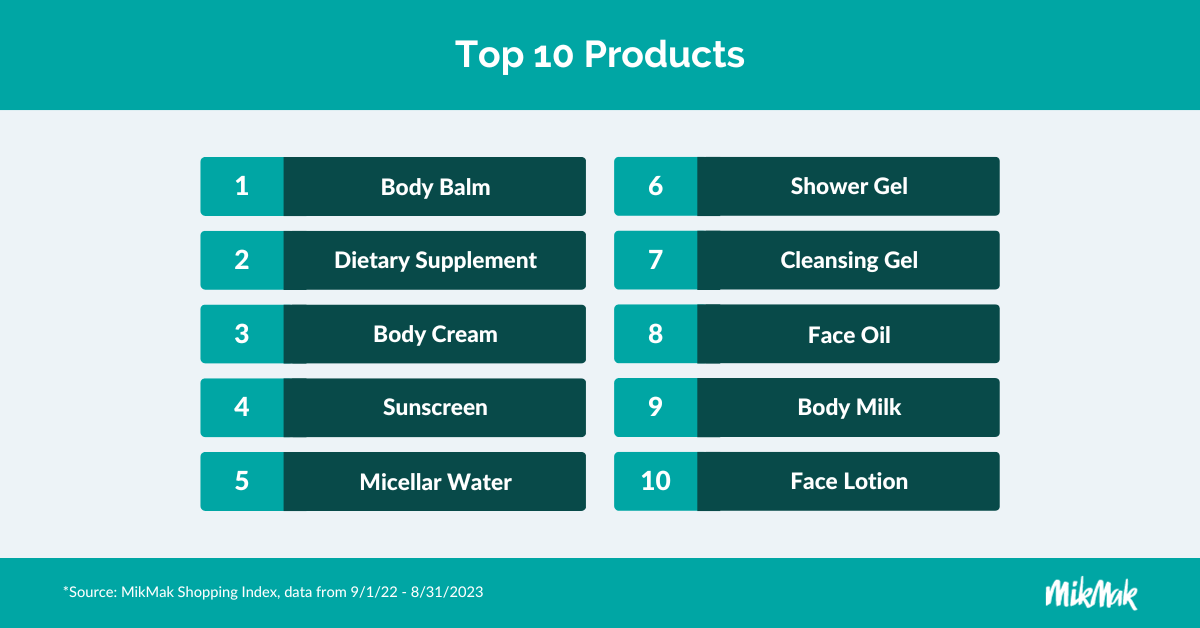 Omnichannel best practices to engage eParapharmacy shoppers
Regarding Parapharmacy, brands such as Bioderma excel in their digital marketing strategy by taking an omnichannel approach. By implementing MikMak Commerce in 32 countries for their websites and shoppable media, this dermocosmetics specialist has achieved impressive results, such as an increase of more than 126 percent in Purchase Intent Clicks from 2022 to 2023.
Key best practices of Bioderma and other leading brands to unlock more Parapharmacy eCommerce opportunities include:
Giving the consumer the choice of any of their preferred retailers
Offering both online and offline channels
Driving shoppable approach on organic media 'always-on' to gather insights and knowledge on shoppers' preferences all year round, with regards to products, channels and all retailers
Optimizing marketing based on First-Party data insights
Using the collected knowledge to adapt media campaign strategy, content and budgets to increase campaign performances and profitability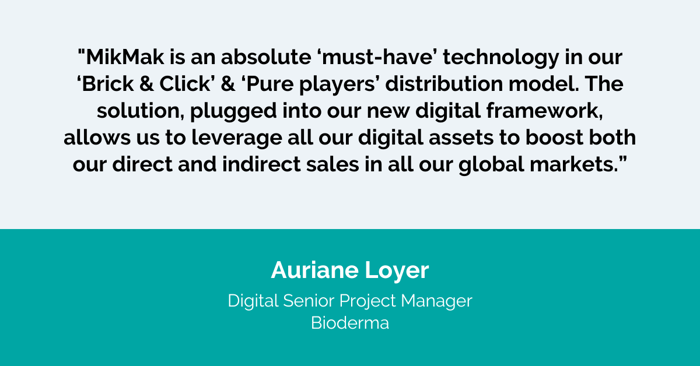 For brands to succeed, it's essential to ensure they are implementing omnichannel readiness to facilitate purchases when consumers interact with your creatives. MikMak can help you with this. Discover how some of our favorite French brands successfully drive consumer engagement on their websites and in the media.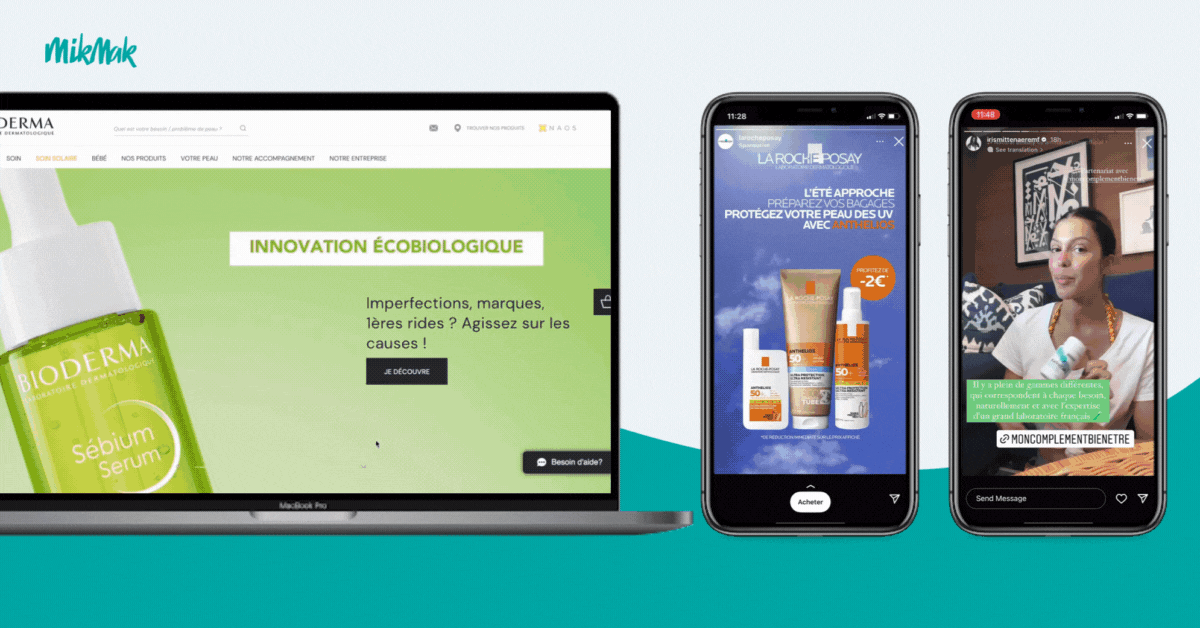 For more inspiration on omnichannel best practices, check out our recent Bioderma Case Study!