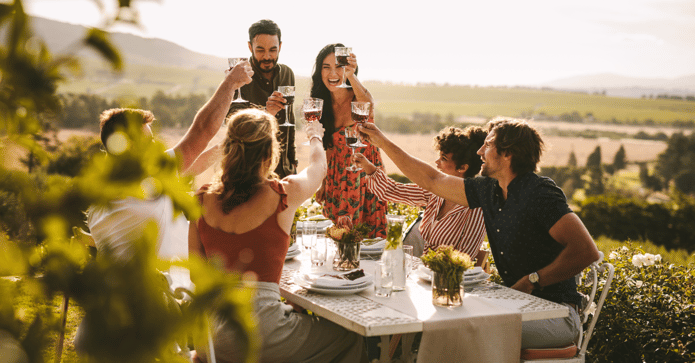 The 'Foires aux vins' wine fairs in France are a yearly celebrated tradition promoting the nation's rich winemaking heritage. It's an excellent opportunity to discover France's finest wines and vintages, from renowned labels to those of new producers at affordable prices. Supermarkets and specialized retailers offer discounted rates all across the country, both online and in stores, on specific dates starting from late August to the end of October.
For wine and champagne brands, this is a key period to drive sales both online and offline. Let's dive into some insights to get a taste of the wine eCommerce and marketing best practices!
Shifting consumer trends drive wine marketing strategy
Founded in 1973 by Leclerc, one of leading French mass-market retailers, les 'Foires aux vins' represent today an eagerly awaited affair, with an average of 54 million bottles sold each year. In 2022, the wine fairs represented 17,4 percent of the annual wine sales of which 38 percent were made online.
Economic and societal context influence the shifting consumer behavior that wine brands and retailers need to consider in their marketing. For example, the unprecedented challenges posed by the COVID-19 pandemic underscored the importance of digital channels. This exigent situation served as a catalyst, driving wine online sales to unprecedented heights, increasing digital transactions up to 70 percent. The year 2022, on the other hand, was marked by the return of inflation and "accessible prices" became an important keyword in marketing.
Another challenge that will continue this year is to appeal to a younger clientele, rather attracted to beer or other drinks. In order to catch their attention, some brands and retailers are now recruiting and presenting young winegrowers (under 35 or less than five years of activity) and creating more fun, colorful and artistic labels, to review the classic codes of wine. Gen Z shoppers, or "Zoomers" are today one of eCommerce's most active and diverse generations. MikMak constantly monitors Gen Z shopping habits via brands' marketing assets to help brands target this audience, along with other generations.
Certain wine brands have astutely harnessed the persuasive prowess of influencers to amplify their offerings, to reach a target audience and to drive sales. Content creation is key to achieving meaningful influence, and digital enables influence at scale and more accurate measurement. This is where MikMak comes in, to help your brand detect the best combinations!
How to craft effective ads to get the Wine flowing?
In order to increase marketing efficiency to drive sales during the wine fairs, brands need to gain insight into what type of ad messaging qualifies shoppers to continue down the path to purchase, on different channels, with different target audiences. This unlocks the ability to optimize paid media spend in real time towards top performing ad creative and targeting to improve bottom line results.
Display ads with strong copy and eye-catching images of your product can also gain your shoppers' attention this Halloween season. When consumers are shopping for their candy stash for trick-or-treaters, stick out with something memorable and season-specific that will make them crave your brand above the competition.
---
---
Test and learn approach is key to best adapt to shifting consumer preferences and to create effective marketing ads. Based on the experience with leading wine and spirits brands, a few best practice tips here:
Use product-focused visuals with a human element as these tend to perform the best
Highlight key product benefits/qualities in relation to seasonal occasions and moments to catch attention
Use clear CTA (buy now, swipe to shop, learn more…), to incite consumers to action
Test lifestyle, carousel, GIF, and video content vs only product images to see which formats drive the most engagement on your different consumer touchpoints
Utilize MikMak data signals on shopper engagement to determine winning creative for real-time campaign optimization and/or future campaign planning
In addition, whatever channel you use, make sure to let consumers access shopping options easily and according to their preferences.
Here's how it works on the brand websites of Krug, a champagne House of LVMH Group.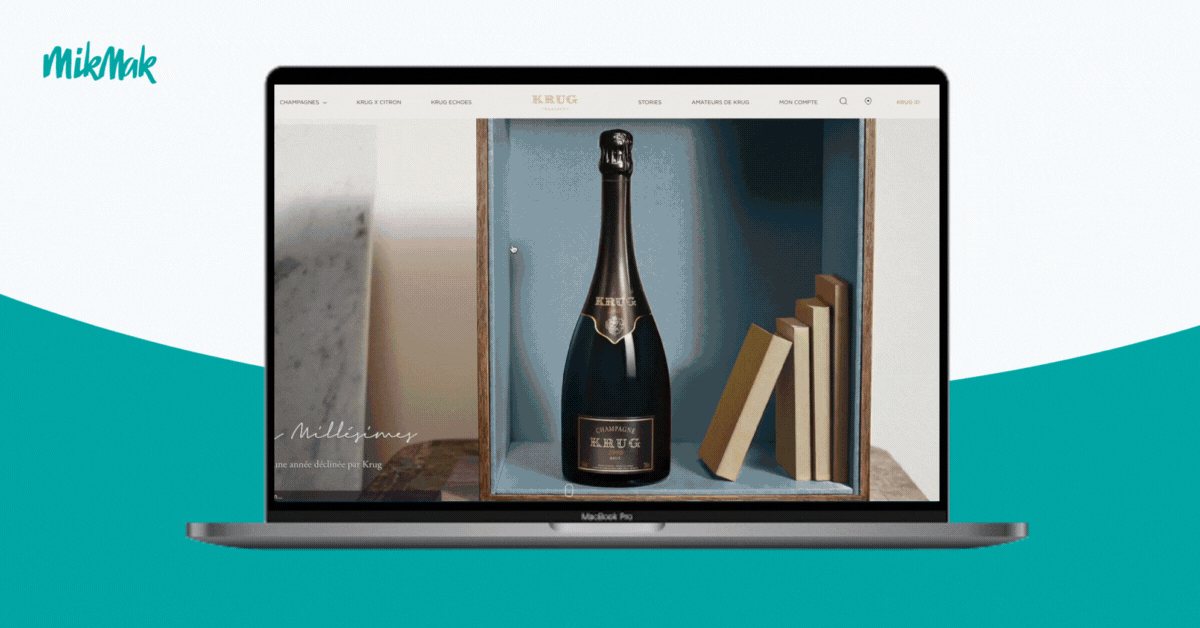 For more insights and links to resources to boost your wine and spirits eCommerce, check our eBook now!