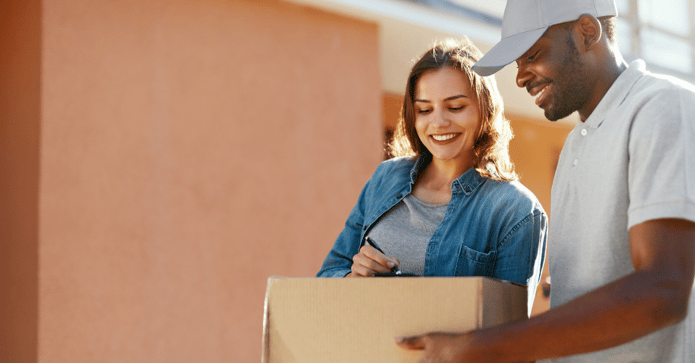 *Note: Since this blog post was written, Amazon Prime Day has officially been announced for July 11 and 12, 2023.
July is a vital time for eCommerce brands, especially because it is typically the time of year Amazon has their famous event, Prime Day. Likewise, other retailers such as Target and Walmart also typically do specialty sales, price matches, or "deal days" to compete with Prime Day.
Last year, Amazon alone saw record-breaking sales for their July Prime Day, with promotions taking place in more than 20 countries, and consumers purchasing over 300 million items worldwide.
While Amazon has not announced official dates for this summer's Prime Day yet, the shopping will likely occur mid-July. Now is the "prime" time for your brand to pay attention to last year's trends, strategize campaigns, and organize inventory. Here's what MikMak discovered about what your brand should look out for ahead of the event.
Top categories for Prime Day have evolved; MikMak predicts Personal Care to continue to rise
Between last year's July Prime Day and October Prime Day, Amazon saw a shift in top categories, according to the MikMak Shopping Index. Health & Personal Care products were the most popular in October, whereas Toys & Electronic products were the most popular in July. Target saw Grocery to be the top category in both July and October.
While Walmart did not do an official promotion last October, in July, Grocery was the top category, and is discovered by MikMak to be the most popular category for the retailer overall.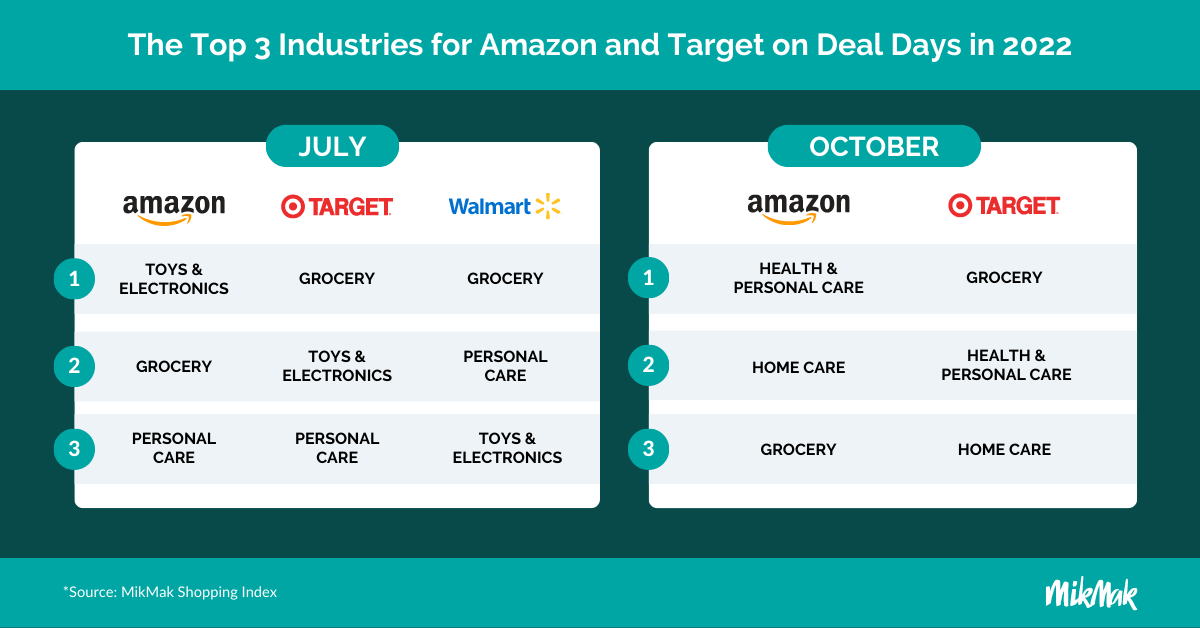 Although we can not say for sure, based on last year's top categories, and the top products, according to the MikMak Shopping Index in the last 90 days, we anticipate that Personal Care will be a hot category across all retailers, especially Amazon.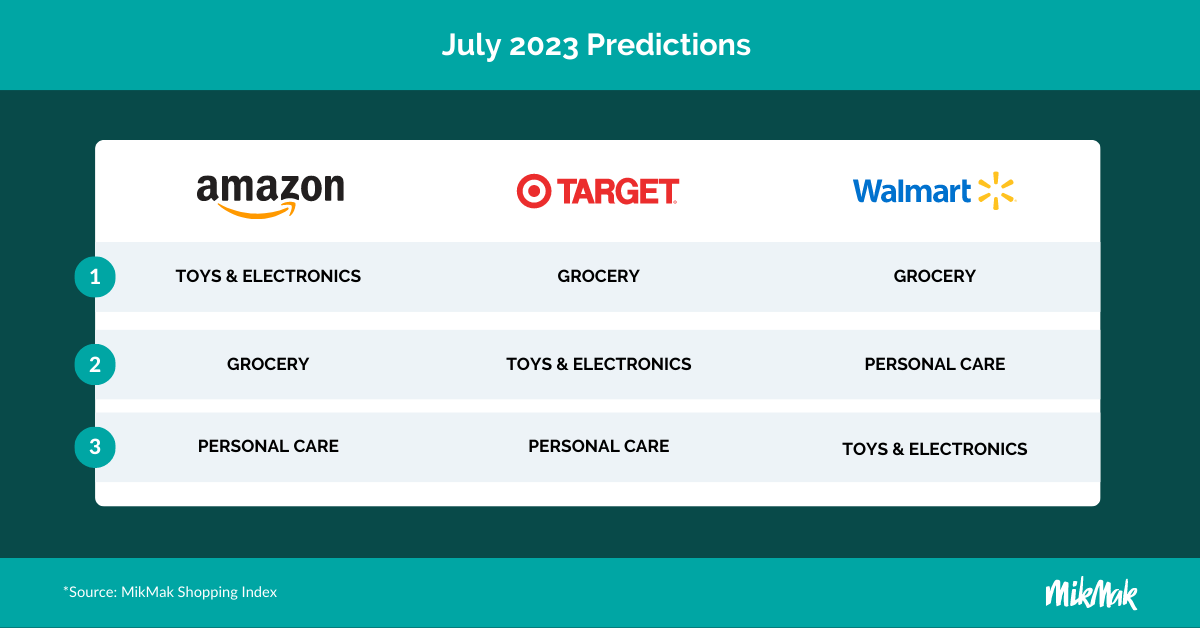 What exactly are those top products? Here's what we found: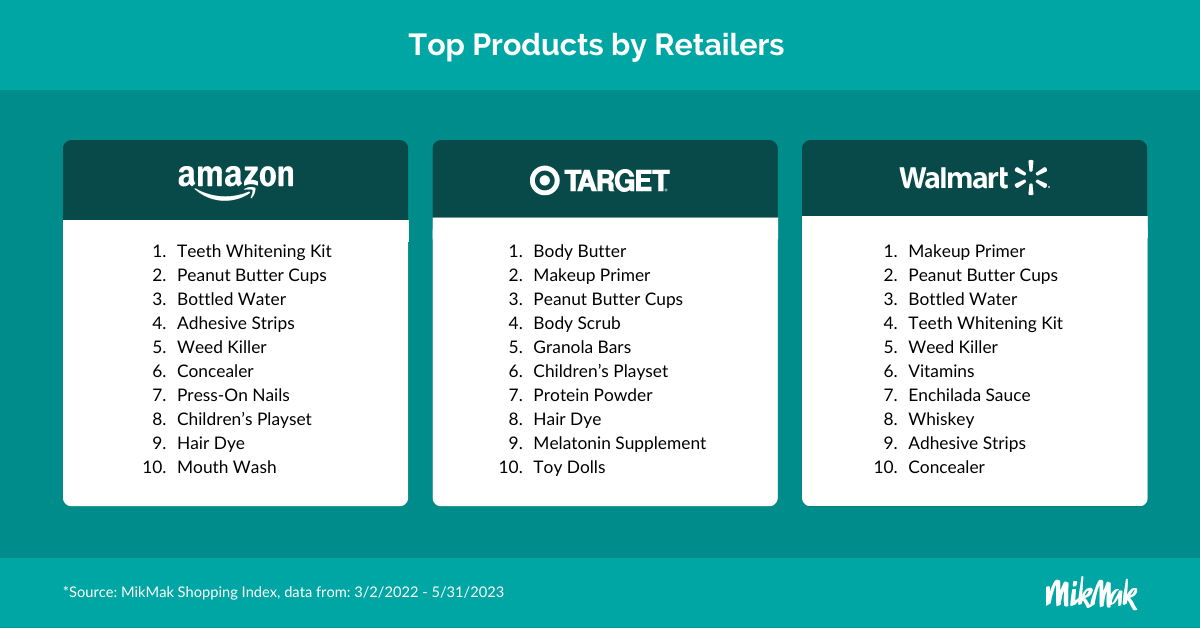 While this information doesn't explicitly point to any one category being a top performer, brands with very similar products within these categories might have a special opportunity to win with consumers this upcoming Prime Day.
---
---
Across retailers, media on Facebook is seeing the most Purchase Intent Clicks when compared to other social channels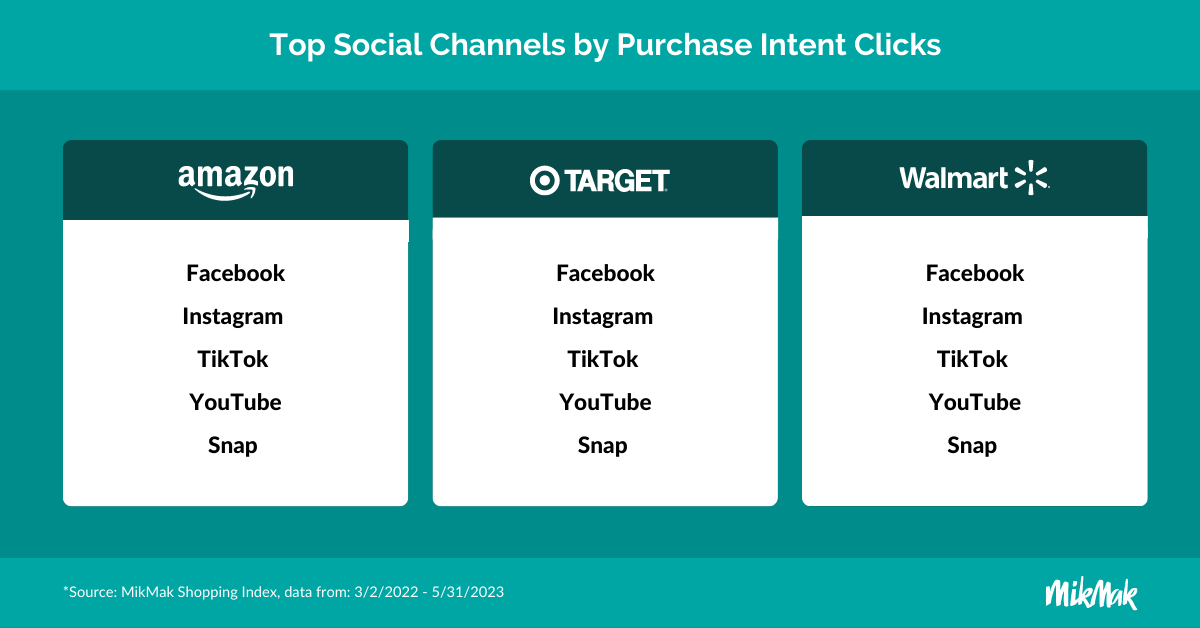 While categories vary, it seems all three major retailers are seeing similar traffic patterns from social channels. In the past 90 days, Amazon, Target, and Walmart all saw the exact same ranking of channels when it comes to Purchase Intent Clicks, or in-market traffic. Facebook tops all three of these lists, with Instagram following, TikTok in third, YouTube in fourth, and Snap in fifth.
Although brands are being seen the most on these platforms, it is important to take an omnichannel approach to social commerce because you never know which media will ultimately inspire a consumer to purchase.
Consider linking a specific retailer to your media to highlight certain deals around Prime Day
During retailer-driven shopping occasions, shoppers will be hunting for the best deal on your product. To make this process easier for the shopper, it may sometimes make sense for a brand to drive a specific campaign or SKU to just one retailer.
Here are some tips and tricks to consider when running these sorts of campaigns: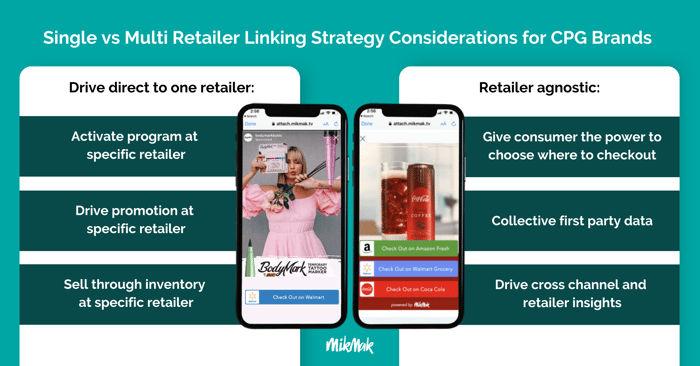 If your brand is running a special promotion with Amazon, Target, Walmart, or any retailer, you might consider this approach so shoppers can easily find the best deal on your product.
June 15th is the last day to send fulfillment; forecast your inventory accordingly
Last year, there were two sets of Prime Days, the first being July 12th and 13th, and the second being October 11th and 12th. For this summer's Prime Day, brands will want to ensure your inventory arrives at Amazon's fulfillment centers no later than June 15th. Likewise, brands will want to provide a similar fulfillment timeline is met with Target ahead of their Deal Days, and any other retailers they may be doing a promotion with around Prime Day.
To best understand the demand for your brand, look at what products your brand is putting on sale around Prime Day, as well as how they performed last year and around other big promotional holidays and events such as Black Friday. Using an analytics platform like MikMak can help you discover demand peaks for different products in your portfolio, and help you manage inventory appropriately to prevent shoppers from settling for a competitor product.
Pay attention to trends; you may use them again soon
In both 2021 and 2022, Amazon held two Prime Day events. While nothing is set in stone, we may likely see another Prime Day again in October 2023.
With MikMak, you can understand your consumers' online behavior across platforms, retailers, and campaigns to increase purchase consideration from your shoppers. To learn more about how MikMak can help you with Prime Day and other retailer-driven shopping events, schedule a demo today.